As an Amazon Associate, I earn from qualifying purchases.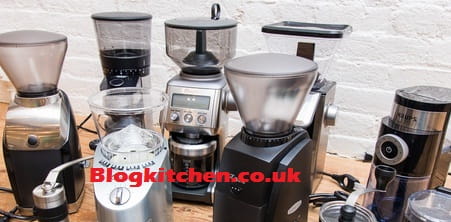 Coffee experts know that freshly ground coffee powder is the best to enjoy every day. Although you can buy pre-ground coffee at stores, grinding coffee every day brings the exceptional flavour and aroma that you cannot find anywhere else.
That's why coffee enthusiasts need to buy coffee grinders. But how to choose a decent grinder for home use? Check out a list of buying criteria and some best electric coffee grinder reviews UK for you.
What Is Electric Coffee Grinder?
If you are a coffee-aholic and want to grind your own coffee at home, a coffee grinder is a must-have item. Many people choose food processors, mini choppers, or blenders to crush the beans. However, they have blunted edges that cannot chop the coffee beans properly.
That's why the coffee grinder comes to shine brightly as the only possible option to grind your coffee without messing up with the smell. With an effective grinder, you will be able to enjoy finer coffee with a stronger taste.
How To Choose The Best Electric Coffee Grinder?
This question might be the most challenging one for those who don't know much about coffee grinders. But the following criteria will help you pick the best home coffee grinder.
Types Of Electric Coffee Grinder
There are two types of coffee grinders: blade coffee grinders and burr grinders. What is their difference, and which one is suitable for you? Let's take a look at their pros and cons.
Blade grinders are the most common types of coffee grinders. They work similarly to the food processors with blunted edges. They use the blade spins to chop the coffee beans. Thus, they are quite weak and cannot grind the bean finely without a specific learning curve.
Burr grinders, which are similar to pepper mill, uses two metal objects to grind the beans. The grinding size can be controlled for different types of coffee. Hence, it will produce evenly-ground coffee for a balanced taste.
While the blade grinder is smaller and more compact, it requires a certain amount of knowledge for the best result. Meanwhile, burr grinders are more effective but larger, louder, and more expensive than blade grinders.
Capacity
The next thing you should consider when choosing an electric coffee grinder is the capacity. Ground coffee should be used up within a day. So if you are a coffee enthusiast who will need several cups of coffee a day, a grinder with greater capacity might be a great choice.
On the other side, people who live alone and only need a cup of coffee for breakfast need a smaller coffee grinder. They will save a lot of space on the counter and can move them around without any hassle.
Coarseness Control
If you don't know, different types of coffee need a specific coarseness. Namely, Turkish coffee and strong Espresso need to be ground very finely for the best taste. Meanwhile, cold brew and French press need to be coarse ground.
Blade grinders don't have an automatic feature to support coarseness control. You need to timing and estimate the coarseness of coffee based on your experience.
On the other hand, burr grinders feature several coarseness variations that allow you to have full control of your result. However, the automatic timing system still needs attention to make sure your coffee will be in the best condition.
Ease of Cleaning
Grinding your coffee daily means you need to clean them properly after use. As you need to perform this task every day, choosing an easy-to-clean grinder will help you save a lot of time.
In this case, conical burr grinders are the best option with removable wheels. You can take it off and clean up the base of the grinder much quicker compared to blade grinders. If you don't have time to clean things up, a blade grinder might not be an ideal option for you.
Noise Level
If you share a room with other people, you don't want people to yell at you because of the loud noise from your coffee grinder. A smooth and silent grinder will prevent you from waking your kids up in the morning. However, do not expect a no-sound grinder. Less-noise grinders are just quieter than general ones.
However, it might be a great investment that you should consider carefully if you do not have a generous budget. You can consider saving a few bucks on basic equipment without caring about the noise.
Material
Last but not least, if you want a long-run coffee grinder, you should pay attention to the type of material. People often consider between steel and ceramic grinder. So, what are their primary differences?
Stainless steel grinders win over ceramic ones in versatility. You can carry a steel grinder along without the fear of breaking it. Meanwhile, ceramic grinder has better longevity and less likely to become dull. And if you are looking for a super-fine grinder, ceramic coffee grinders are the best option.
Best Coffee Electric Grinder Reviews UK 2023
| Coffee Grinders | Motor | Capacity | Grind Settings | Dimensions | Weight | Editor's Rating |
| --- | --- | --- | --- | --- | --- | --- |
| SHARDOR Electric Coffee Grinder | 200W | 70g | - | 27.6 x 13.2 x 13.2 cm | 1.06 kg | 4.6/5 |
| Duronic CG250 | 250W | 75g | - | 10 x 10 x 21 cm | 1.14 kg | 4.4/5 |
| Krups GVX231 | 110W | 225g | - | 21 x 17 x 30 cm | 1.76 kg | 4.3/5 |
| Dualit 75015 | 150W | 250g | 10 | 14 x 27 x 19 cm | 1.8 kg | 4.4/5 |
| Severin S73873 | 150W | 150g | 19 | 19.3 x 14.6 x 27.4 cm | 1.8 kg | 4.3/5 |
| Cuisinart DBM8U | 125W | 250g | 18 | 22 x 31 x 19 cm | 1.8 kg | 4.3/5 |
| Krups GVX242 | 100W | 225g | - | 20 x 16 x 26.6 cm | 1 kg | 4.1/5 |
| Sage BCG820BSSUK | 165W | 540g | 60 | 46.6 x 28.2 x 20 cm | 4.02 kg | 4.7/5 |
| Sage Dose Control Coffee Grinder | 130W | 340g | 60 | 44.8 x 26.4 x 20.6 cm | 3.54 kg | 4.6/5 |
| De'Longhi Dedica Style KG521.M | 150W | 300g | 18 | 15.24 x 38.1 x 38.1 cm | 2.77 kg | 4.5/5 |
Now, let's take a look at some best electric coffee grinder on the market. We will break the feature down to six criteria that you have seen above. Also, the pros and cons of the item will be revealed.
Best Coffee Grinder Under £50

Paying £50 for an electric coffee grinder is such a great deal that people are searching for. And the three options below will meet your demand for a good coffee maker for home use.
1 – SHARDOR Electric Coffee Grinder
If you are looking for the best cost-effective coffee grinder, the SHARDOR electric coffee grinder might be what you are looking for. This item deserves the title of the best coffee grinder under £50 with its high versatility and compact design.
In terms of performance, the SHARDOR coffee maker features a high-power motor with a maximum speed of 24000 rounds/min. It will take you about 8 to 15 seconds to grind up to 70g of black coffee. Since the capacity of this grinder is relatively limited, it is suitable for people who need three to five cups of coffee a day.
Apart from the appealing and compact look, the SHARDOR grinder is super easy to use. Pushing and holding the lid of the grinder allows you to grind the coffee at different fineness. Meanwhile, the steady and safety lock and the sealing ring will keep the coffee powder from splashing.
However, you don't have a timing function in this low-price option, which means you will need several trials and fails to have the desired fineness.
As you can see, it operates similarly to a food blender. So you can use this machine as a nut grinder, a pepper grinder, and a salt grinder. However, we recommend to use this grinder for coffee only as you don't want other cooking ingredients smell like coffee.
Pros
Small and compact design
Stylish look and easy to use
Can be used as a nut, pepper, or salt grinder
Cons
No timing function or timing support system
Brown plastic bottom bowl
Small capacity
2 – Duronic CG250 Electric Coffee Grinder
Another competitor for the title of the best budget coffee grinder is the Duronic CG250 machine with a simplified design and effective performance.
With a 250W motor, the Duronic grinder can beat up any type of coffee beans effortlessly. Grinding your coffee freshly every day also brings you the best taste and aroma that you cannot find in instant coffee or pre-ground coffee. The capacity of the Duronic grinder is 75g, which is more than enough for two or three people to boost up their days.
In terms of cleaning, this machine is designed with a removable steel bowl for easy removing the ground coffee from the grinder. You can detach parts and clean them up in a matter of minutes. However, you might need extra time to clean up the coffee stuck under the blade inside the bowl.
Without any system for coarseness control, the Duronic requires additional attention during operation to achieve the desired ground coffee powder. You can push and hold the top in an estimated amount of time to grind the beans as fine as you want.
Moreover, the Duronic comes with thoughtful ideas of non-slip feet that can withstand the strong vibration during operation. Cable management at the bottom of the grinder also makes it easier to control and manage your counter.
Pros
Easy to operate and clean
Small and compact design
Multi-purpose
Cons
Produce loud noise
Easy to get overheated
Small capacity
3 – Krups GVX231 Expert Burr Grinder
The last option in this bottom-rock price range is the Krups GVX231 burr grinder that offers you extra features for grinding coffee.
If you demand an automatic coarseness control and the two machines above might not satisfy you, the Krups grinder can make it up for you. This small and compact grinder features a fineness adjustment with 17 levels from fine to coarse. It will back you up at any brewing method from espresso to French press.
Moreover, with an amount of selector, you can choose the amount of preparing coffee for 2-12 cups. It will grind only the set amount, which will keep you up with fresh and newly-grounded coffee every time. And if you mind about the leftover bean inside the grinder, an airtight bean hopper will keep them fresh until they are used up.
When it comes to performance, this burr grinder is a beast with dual stainless steel blades and a powerful 110W motor. It comes with a removable upper burr and safety lid for easy cleaning.
Operating this grinder is straightforward. You need to adjust the coarseness option on the side, numbers of cups at the front. Push the button, and it works like a charm. Another safety feature is that the grinder will not work if the top isn't properly installed.
Pros
Easy to operate
Coarseness and amount controller
Simple design and compact size
Cons
Suitable for fine and medium grinding tasks
The start button might fail quickly
Best Coffee Grinder Under £100
As you have seen above, some features are not available in the price range of under £50. And if your budget is a little more generous, you can have those features integrated into these following machines.
1 – Dualit 75015 Coffee Grinder
If you are looking for the best burr coffee grinder under £100, the Dualit 75015 machine might be a great candidate. It is a conical coffee grinder that offers you the best aroma and taste for a breakfast cup.
The Dualist coffee grinder is the best option for coffee enthusiasts who are in love with different types of coffee and have a picky taste. It features a powerful 150W motor with gear reduction for a slower and cooler grind. Hence, it will lower the effect of heat in reducing the aroma of ground coffee.
Moreover, the design of a conical burr grinder makes it quick and convenient in cleaning the machines. It will help you preserve the original flavour when switching between different beans.
Another feature to keep your coffee newly-ground every day is the portion control knob that allows you to select the desired amount of coffee. This function is excellent when you don't want to waste your previous-day coffee because of the reduction in aroma and taste.
With the maximum speed of 450 RPM, the Dualist grinder can cover your coffee requirement whether coarse, medium or fine ground coffee. Besides, a great hopper capacity of 250g allows you to grind coffee for a whole hood of friends.
Pros
Coarseness and portion control for any coffee requirement
Great capacity hopper and collector
Safety cut out
Removable burr
Cons
Problem with static and burst of coffee
No indication of how many grams for each cup
2 – Severin S73873 Coffee Grinder
The next option in this medium price range is the Severin S73873 coffee grinder with a simple and elegant look.
If you are looking for a stylish and appealing coffee grinder for your kitchen, the Severin white-silver option is the best way to go. This cone-shaped grinder is made from stainless steel that can maintain the original aroma of freshly-ground coffee.
The conical burr and fineness adjustment makes this small machine the best coffee grinder for espresso. With a special structure of a burr grinder, this machine produces consistent in grinding coffee beans. The slow operation of the conical grinder also prevents heat from ruining the coffee taste.
Moreover, the Severin grinder features an electronic clock to grind the right amount of coffee that you need. The container has a maximum capacity of 150g that can produce up to 8 cups of coffee.
Also, this machine offers you additional thoughtful features like non-slip rubber feet to avoid dynamic issues. You will less likely to experience splashing coffee during operation. Also, it will result in quieter operation for lower noise levels and less disturbing.
As the Severin grinder is made from German, it came with a 2-pin plug. Thus, you need to purchase a 3-pin right-angle converter. You can purchase it anywhere around you and it only costs you a smaller amount of money.
Pros
A stylish and elegant look
An electric clock for setting the desired amount of coffee
Non-slip rubber feet
Cons
Require a 3-pin converter
Small capacity of 100g
3 – Cuisinart DBM8U Professional Burr Coffee Grinder
If you want to grind your coffee professionally right at home, the Cuisinart DBM8U Professional coffee mill might be an excellent choice for you.
The Cuisinart is a sweet deal for coffee enthusiasts who are looking for a heavy-duty grinder at home. It features burr plates with low spinning speed for the maximum flavour and aroma. It will press the beans between the plates to extract flavour regardless of the damage of friction.
As the leading merchandise company in the US, the Cuisinart continues satisfying its customer who is in love with fresh and aromatic coffee. The coffee grinder can hold up to 250g of coffee beans. With a cup selector between 4 and 18 cups, you can have enough coffee for a whole long day. It also provides you with the freshest flavour of coffee.
The Cuisinart coffee grinder can satisfy even the pickiest customers with an 18-position grind selector from Espresso to Cafetire. You can choose to produce any type of brewing technique with this small machine.
In terms of cleaning, this grinder offers you the best convenience. It includes dishwasher-safe, removable parts that can be cleaned up in a matter of minutes.
Pros
Can be washed using dishwasher
High-quality conical burr grinder
18 position grind selector
Capacity of 250 g
Cons
Coarser after times of use
Need to grind the coffee two times for the finest quality
4 – Krups GVX242 Coffee Grinder – Coffee Grinders
The Krups GVX242 coffee grinder is an upgraded version of the GVX231, which is re-engineered to improve performance compared to the previous model.
This GVX242 grinder maintains the simplified design with three main parts: a hopper with safety lids to hold the beans, the grinding system, and a 225-gram container.
In terms of specification, the GVX242 and the GVX231 is nearly the same. The difference between the two models is a bigger burr and a stronger motor featured in the GVX242. It results in higher-quality ground coffee with less vibration.
The GVX242 features a fineness selector with 17 levels for any brewing techniques from Espresso to Cafetiere. An upgraded motor also provides espresso enthusiasts with the premium fineness they demand.
Also, this grinder comes with a selector for the number of cups from 1 to 12 per time. It will set up the time to grind only the needed amount and keep the other beans fresh in the air-tight hopper.
While buyers complained about the GVX231 start and stop button, the GVX242 also fixes this big problem. If you move from the GVX231 to the GVX242, you will see the significant improvement that the button is made carefully and works for a much longer time.
However, the downside of this upgraded version is the loud noise and coffee splashing without the presence of a safety lid.
Pros
Improved burr and motor
Suitable for grinding premium coffee for espresso
Portion and fineness selector
Cons
Loud noise
Coffee splashing
Best Coffee Grinder Under £200

In this final section, you will discover the best burr coffee grinder UK at the highest price range. These options are suitable for those who want an automatic or semi-automatic long-run grinder for everyday usage.
1 – Sage BCG820BSSUK Smart Coffee Grinder Pro
Top of the list is the Sage BCG820BSSUK grinder with a unique design and intelligent features that you cannot find in any other machine.
This Smart Grinder offers you a convenience to grind your coffee directly in a portafilter, an airtight container, or paper filter. You can customize the output for different usage and take the whole control in grinding your own coffee.
As its name suggests, the Sage grinder features intelligent pre-programmed settings to help you achieve the premium results no matter how fine or coarse your beans are. With the Dosing IQ feature, you are allowed to adjust in 0.2 increments for total control of the grinding portion. You can choose between 'cups' for French press or 'shots' for Espresso to have the right dose.
The biggest benefit that this Smart grinder offers users is a clear LCD screen that displays setting, time, and number of portions. You will find it more straightforward to adjust the setting and operate this machine without any mistakes.
Moreover, if you are an at-home barista, you will be pleased that this grinder pairs well with the Sage's Dual Boiler. You will have the chance to take beans to the fullest potential.
Pros
Durable and reliable for grinding any types of coffee bean
Ideal for Espresso coffee grinding
Clear LCD display and easy to adjust
Cons
Switching between coarseness is not applied instantly
Too much unnecessary coarseness levels
2 – Sage Dose Control Coffee Grinder
Another option from Sage is the Sage Dose Control grinder with a simple design compared to the Smart Pro one.
Like the same item from the brand, this grinder allows you to grind your coffee directly to any portafilter, filter, or container. It is much more convenient compared to other machines that only fit with one container.
The features of this machine is straightforward. You will find a coarseness control at the neck of this Best coffee grinder for the French press. It has 60 different levels, which is too much for a home barista to deal with their brewing techniques.
The biggest benefit of the Dose Control grinder is a precise electronic timer that enables you to adjust grind time by 1 second. It is the best system to control the dose for any brew size. That's why the name of this machine reflects its best feature.
In terms of performance, the Sage conical burr grinder is designed to reduce the heat during grinding and protect the original oils in coffee beans. The heavy burr delivers a consistent grind for a balanced extraction. Thus, you will be served with flavourful cups of coffee.
However, the downside of this product is the unnecessary function that should be cut down to lower the price.
Pros
Slow-spinning conical burr to preserve the original taste and aroma of coffee
60 grind settings for different types of brewing techniques
Precise electronic timer for the exact portion of ground coffee
Cons
Quite expensive for value
Some features can be reduced for a lower price
3 – De'Longhi Dedica Style KG521.M Coffee Grinder –

I Highly Recommended
The final option for the title of best electric coffee grinder under £200 is the De'Longhi KG521 coffee grinder, a modern and stylish coffee mill that offers you excellent values.
This grinder allows you to take the whole control to turn the beans to whatever types of coffee you want. Apart from 18 grind settings for espresso, filter coffee, and French press, you can also choose three aroma function (mild, normal, and thick).
The aroma function will change the speed of the burr for creating different levels of aroma. Besides, you will have 2 options for the edition of coffee powder. You can take them out in the container or directly in the filter holder for espresso brewing with an adapter.
Moreover, the De'Longhi grinder features a 2.1 inch LCD display that allows you to control the grinding setting and make change obviously. This stainless steel grinder is easy to clean with a removable upper insert. You can also clean up the outer of this grinder with a soft cloth.
Pros
18 grinding settings
LCD display for detailed settings
Options for aroma levels
Cons
Conclusion
Having a cup of flavourful coffee and enjoy the aroma of fresh coffee each morning is a must for coffee enthusiasts. With a decent coffee grinder, you can start your busy day with newly-ground coffee. We hope that ten options in the best electric coffee grinder reviews UK can help you choose the right machine for your home.