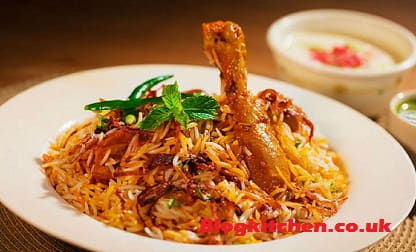 Do you enjoy the taste of biryani but have no time to go out to eat it? Do you want to make your Indian food at home? Try out Biryani. Biryani is a dish that originated in Persia and has been popularized by the Indians. This post will teach you how to make chicken biryani at home so that you can enjoy this delicious food anytime!
How To Make Chicken Biryani At Home?
Biryani is a spicy dish from Northern India. The original sauce comprises chicken, yogurt, and spices. But since the signature sauce can go bad if left out for too long, people often substitute other ingredients for the sauce to make sure they get tasty food each time!
Don't let the list of spices and herbs scare you; let us help you step by step!
1 – Mise en Place:
Here are the ingredients you should prepare:
300g of basmati rice
25g of butter – or a quarter of a stick of butter
1 big onion – sliced thinly
1-2 bay leaf
3 pods of cardamom
1 small stick of cinnamon
1 teaspoon of turmeric
4 skinned chicken breasts – cut into large bite-sized chunks
4 tablespoons of balti curry paste
85g of raisins
850ml of chicken stock
30g of coriander – half chopped, the rest with leaves picked
2 teaspoons toasted flaked almonds – saved for serving
Make sure that the ingredients are all separated into steps. Doing this will help you plan out your cooking process more smoothly, keep your kitchen clean, and prevent cooked food from spoiling uncooked ones.
You can also be creative with the toppings: boiled corn is a great option if you don't like almonds.
2 – Cook Your Rice:
Once everything is on the table, you should start working with the rice. Rice takes a while to cook, so it should come first.
After you pour the rice from the bag, rinse it. Put it in a bowl with warm water for about 5-10 minutes, and then wash it until the water is clear. Doing this will get rid of the silk coat on top of the rice.
While the rice sits, you should start making the sauce. Your quarter stick of butter hits the saucepan, and your sliced onion, bay leaf, cardamom, and cinnamon join after. Let the whole concoction cook in your pan on medium/high heat for 10 minutes. Your spices and the butter can burn very easily, so keep an eye on the pan and stir when necessary.
3 – Cook Your Chicken:
After 10 minutes, add your chicken along with the rest of the spices. Arrange the pieces in a way that avoids direct contact with the pan, and sprinkle in turmeric and your curry paste. Stir the breasts until your kitchen is swimming in the beautiful aroma.
Stir the rice and raisins in the sauce, add your chicken stock, and let it come to a boil. Lower the heat so that nothing spills out of your pan. Cook for 5 minutes, then cover the pan and let it cook for ten more minutes, making sure not to walk away from it while cooking.
That doesn't mean you can walk away from the mixture, though. Pay attention to the pan in the meantime and give it a hefty stir with half your chopped coriander if necessary.
You can serve the dish in several bowls for your family members after sprinkling on the rest of the coriander and toasted almonds. If you seek a more exciting way of serving, carry the pan to the dining table and have your family members scoop out their portion. The pan will allow the chicken biryani to stay hot and juicy!
How To Keep Chicken Biryani Leftovers?
Biryani leftovers do not require much effort to preserve. You only have to let it cool completely before introducing it to an airtight container in your fridge!
When you pull the dish out of your fridge, remember to scoop out small portions and microwave those instead of heating up the entire batch multiple times, or you'll get food poisoning.
Final Note
We hope you enjoyed this guide on how to make a chicken biryani at home. Enjoy your delicious rice dish. Store it for later, too! You might want to save up for another portion soon too. That way, you can also cook other dishes with basmati rice and use the stock from this recipe!