As an Amazon Associate, I earn from qualifying purchases.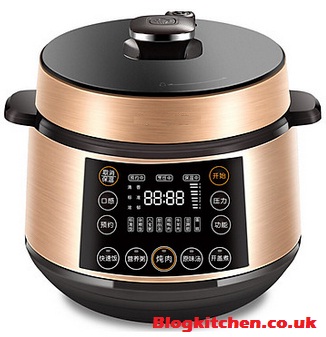 In busy modern life, there is often not much time for you and your family to share a home-cooked meal? Hence, you want to search for an amazing gadget that saves plenty of time on cooking? Time to check out an electric pressure cooker!
If you still have no idea on operating it, this article on how to use electric pressure cooker will help you plenty!
How To Use Electric Pressure Cooker Step By Step?
As per different cooking principles of an electric pressure cooker, how to use it also requires some particular steps. In order to keep it easy for you, here come the six steps needed for a perfect meal with the electric pressure cooker.
Firstly, put food and pour liquid into the pot. The modern cooker works on steam pressure, so liquid, such as water, milk, broth, is a must.
Secondly, carefully close the lid and make sure that its valve is in the right position.
Thirdly, you need to decide the time and cooking program that is suitable for the food you just put in the cooker. It is certainly important to pick the right pressure for the best outcome.
Fourthly, wait! Wait until the pressure inside the cooker increases.
The next step is to let the pot finish its job. After you select the time and program cooking, the LED screen will present these figures and the time counted down. When time runs out, it's your job to do the final task, releasing pressure!
After this step, you can easily take the delectable food out without any harm!
Safety Tips On Using Electric Pressure Cooker
Don't Fill To The Max
The electric pressure cooker doesn't have unlimited space for food and liquid! When you fill the pot to the max with materials that can expand (beans, rice, etc.), it can explode when you open it at the end of the cooking process.
In order to keep users safe, the pressure cooker features a max fill line. When you put a moderate amount of food and liquid inside, always be extra careful with expanding ingredients.
Stay Away From The Steam
Before you open the cooker, the most important thing is to let all the steam out. Under high pressure, the extremely hot steam released can pose harm to users, namely burn injuries, ranging from 1st to 3rd degree. That's why you need to stay away from the steam when releasing it.
Have An Eye On Your Cooking Pot
Cooking is safe when you're keeping an eye on your kitchen corner. Everything may turn out to be a mess and even worse, a tragedy when you're not keeping it under careful surveillance. Especially if you use a pressure cooker and forget to release the pressure after the cooking is done, accidents can happen. So, never leave the pot alone.
Food To Cook In An Electric Pressure Cooker
No one can deny the wonderful cooking ability of an electric pressure cooker. It thoroughly cooks hard and dry food within an impressive amount of time. For instance, hours of cooking rice, grains, or other kinds of beans can reduce to less than 60 minutes.
As an electric pressure type, the cooker is much more versatile and time-saving. Dry and hard food is not a big deal for them! How about meat and vegetables?
Well, our cooker can easily handle them in minutes. So, why don't you try some amazing recipes with the new electric pressure cooker. Hmm, how does Mongolian beef, turkey breast, or pot roast sound to you?
Conclusion 
With today's how to use electric pressure cooker article, will you feel at ease when cooking? We hope you will!
The step-by-step instruction and safety tips will keep you safe and active while cooking! Good luck! And thank you for reading.