As an Amazon Associate, I earn from qualifying purchases.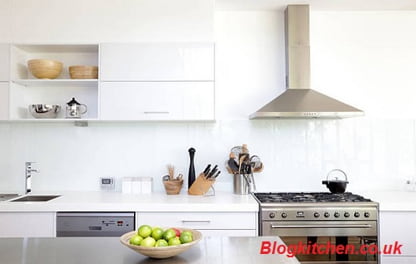 Cooker hoods play a very important role in protecting your family's health. It's one of the most indispensable products in your kitchen.
How does the cooker hood work to filter the air and what is its structure? Have you ever wondered like that? If so, let's upgrade your knowledge about this kitchen appliance through today's article!
How Do Cooker Hoods Work?
It is an indispensable device to remove odours from the air in the kitchen. Most of them operate on a combination of ventilation fans and filters.
The machine usually includes basic parts such as an outer shell, steam system, filter, exhaust fan, light, and button to adjust the suction speed.
The fan can suck poisonous gases and unpleasant odours and discharge them outdoors, while dirt and grease particles stick to the filter membrane, which can be easily removed for cleaning and replacement.
But how do cooker hoods work? When you turn on the power, the system will automatically draw in all the air containing smoke, food odours, grease, or gas in the cooking area with a fan.
After that, the gases will continue to be inhaled, and the grease and dust will be trapped in the first filter layer.
Next, the system will expel the gas and odour outside the pipeline. With a direct deodorizing hood, all of the air sucked in is removed by an activated carbon filter and recycled, returning clean air to the kitchen.
Each type of cooker hood (extraction or recirculation) operates differently depending on whether it takes air from outside or recirculates air from inside your home:
Extraction Hood
Cooker hoods that draw air from the outside are more efficient than those that recirculate it. That's because you don't need a charcoal filter to remove the odour. This device only needs a grease filter.
It is necessary to replace the exhaust air with cool one to avoid losing heat in the building. Heating costs increase in cold weather as a result, but it can provide the desired cooling in hot weather.
The hood requires ducting to deliver air to the external grille, and the maximum duct length is limited (typically 3 meters) but decreases with each bend in the duct.
Recirculation Hood
When using this type, both a grease filter and a charcoal filter are required to remove grease, steam, and odours from the hob steam.
The charcoal filter removes odours and returns the air to the kitchen. No heat from the air is lost in your house. This usage can be desirable in cold weather, but it can be inconvenient to use in hot weather.
Understanding the operating principle of this product will help you increase its lifespan and choose the appropriate suction model. It also saves power consumption because normally, hood products have three suction modes in different reductions levels.
It usually has a  ​​700-900 mm cover body area with a suction and removal capacity of about 700-1,200 m3/h.
Besides, it would help if you choose an one with an exhaust pipe to the outside for a modern kitchen space. By doing so, unpleasant odours and smoke will be thoroughly and effectively inhaled and eliminated to make your cooking area airy and clean.
Benefits of Cooker Hoods
Eliminates food odours and improves air quality
Unpleasant odours during the cooking process will remain on the items in the kitchen, a condition for mould and bacteria to grow. You want to install a hood to limit these phenomena and ensure the hygiene of your cooking space.
Protect your family's health
Families using gas stoves will produce NO2 gas that is harmful to health. The hood is capable of sucking and handling NO2 gas, protecting the health of your family.
Highlighting Your Kitchen
With a smart and modern design, the hood does not only stop at the above functions, but it also helps the family's kitchen look more luxurious. Indeed, it brings a polite and harmonious vibe combined with other appliances.
Final Words
In today's kitchen, this great device is an indispensable piece of equipment. It plays an important role in protecting your family's health, absorbing odours and filtering the air when cooking, and protecting equipment and kitchen cabinets.
So if you still wonder how do cooker hoods work to make your kitchen odour-free, we hope this article has helped you!