As an Amazon Associate, I earn from qualifying purchases.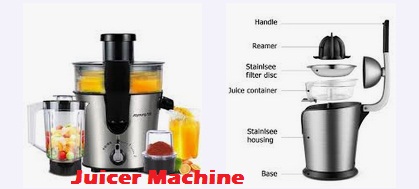 A glass of juice that has been freshly squeezed by yourself is the best beverage you can have. Why? Because it contains more beneficial nutrients and is free of harmful sweeteners and preservatives, which is much better and safer than canned juices or other beverages in stores/cafes/restaurants.
If you care about the health of your family or simply love delicious juice, the best juicer machine reviews UK that we provide in this article must be what you are looking for.
Learn all about these fabulous appliances now!
What Is A Juicer Machine?
A juicer machine is an electronic device that has the function of extracting all the essence of fruits and vegetables such as vitamins, minerals, nutrients, proteins, and so on into juice.
The pulp and fibre of fruits and vegetables are often removed partially or fully depending on different models.
The amount of water in the juice may come from the fruits/vegetables themselves, or you can add water/milk to the jug of the appliance on your own.
Some juicer machines can also help users make ice-creams, butter, milk, smoothies, and other food/beverage just like a blender.
Types Of Juicer Machine
1. Centrifugal Juicers
This is the most common juicer on the market. To use a centrifugal juicer, you simply feed the vegetable fruit or into its funnel, then a rotating blade in the cutting disk will shred everything into tiny pieces.
The fast-spinning movement of the rotating blade can efficiently force the juice to come out of the vegetable or fruit, parting it from the pulp.
Numerous centrifugal models feature the pulp catcher in the same area with the cutting disk, which makes the pulp catcher hardly hold much pulp. But yeah, this also means that there are other models that have a separate pulp container!
Because they are not good at making larger batches of juice, centrifugal juicer machines are more suitable for people who only serve themselves.
Besides, if you do not have time to pre-cut the vegetable or fruit, a centrifugal juicer can still work well but with remarkable noise.
2. Masticating Juicers
Masticating juicers, or also called slow juicers, extract juice by a slow-rotating auger that squashes fruits and vegetables against a stainless steel mesh.
Owing to the slow speed, oxidation takes place less significantly, which is ideal if you are not going to drink the juice instantly.
After flowing through the mesh, the juice comes out into a container, but the pulp is discarded into another one.
In comparison with centrifugal juicers, masticating models are far quieter. Unfortunately, they are more pricey, work slower, take up more space, and create a more pulpy juice.
3. Citrus Juicers
As you can tell from its name, a citrus juicer is specially engineered for juicing citrus fruits such as orange, grapefruit, and lemon. However, with this special design, a citrus juicer is not appropriate for juicing greens.
Based on your own needs and preferences, you can select to use either a manual or an electric citrus juicer.
Of course, a manual juicer is not a powered machine, so you will have to spend a lot of effort on squeezing the citrus fruit against the reamer by hand. The juice will gradually flow through the fine mesh into a container beneath.
An electric citrus juicer works just like a manual one, but it comes with a powered motor so that users do not have to squeeze the fruit manually.
Hence, a manual juicer is not suitable for big citrus fruits like grapefruit. It is easier to juice lemon or small oranges.
4. Triturating (twin gear) Juicer
The triturating juicer, also known as the twin-gear juicer, features two gears placed close together, which spin at a low rate to gradually crush, grind, and separate juice from fruits and vegetables.
The juices created by this type of juicer are typically smoother and more nutritious. Besides, it can do an excellent job on almost all kinds of materials from leafy greens to hard, crunchy roots and fruits.
Alike single-gear models, these twin-gear juicers often offer more than a single function. Some of them come with separate kits for chopping veggies, grinding nuts and seeds, or even making noodles, etc.
The majority of triturating juicers are quite bulky and heavy and expensive. Therefore, they are usually used for commercial purposes and not the best juice extractor for home use.
How To Choose The Best Juicer Machine?
1. Pulp Ejection System
Regardless of what type it is, each juicer must feature a pulp ejection system to expel the pulp after the juice is extracted.
The more effective this system is, the smoother your juice is. And you will not feel uncomfortable when feeling tons of pulp going around in your mouth and stomach.
However, although most of the beneficial substances are in the juice, sometimes the pulp of fruits and veggies still retain a certain amount of nutrients and are quite good for health.
Besides, some people may prefer a pulpy juice over a smooth one. So, choosing a model with a high-performance pulp ejection system or not may depend more on your needs and preferences.
2. Easy To Clean
When the juicer squeezes, slices, chops, and cuts the materials, numerous tiny pieces can get stuck in various parts of the machine.
Therefore, ease of cleaning is very important so that you can save more effort and the appliance can last for longer and produce cleaner juice.
You ought to get access to critical parts of the device easily, peculiarly those that contact directly with the materials such as the filter or auger. And it is best to pick a model that can be washed by a dishwasher.
3. Multiple Speeds
To handle different kinds of materials (nuts, greens, fruits, so on) and make different juice recipes, your juicer machine needs to feature multiple speed settings.
Moreover, adjustable speeds also give you more control over the texture of your juice. Don't buy a single-speed model if you do not want to limit the number of products you can enjoy.
4. Feeder Tube Size
The feeder tube size determines the amount of materials you can add to your juicer machine at one time. In addition, you can also press the tube down onto the fruits/veggies to help the equipment grind/chop them faster.
Thus, if you have to serve 3 – 4 people or more, you should have a big feeder tube. Vice versa, if you only plan to make one or two cups of juice, a small-sized tube is okay.
5. Juice Collector
Apart from the feeder tube size, the juice collector also affects how much juice you can create in a specific amount of time. The bigger the juice collector is, the more juice it is able to contain.
While most juicers come with an integrated juice collector, some others offer an outlet that allows users to use any container to hold the juice.
6. The overall size and storage
Think about whether you would use your juicer machine frequently at a fixed place in your kitchen or not, and how much space you have for the device.
If your kitchen is narrow and you often have to move/store the appliance, a compact and lightweight centrifugal juicer is a more proper choice.
But if you still have a generous area for a juicer that you will use every day in a permanent position, a heavy-duty masticating juicer machine will cause you no trouble.
7. Noise Level
The noise from these machines may be extremely annoying for you and other people in the long run, so it should be as quiet as possible.
A masticating juicer is much quieter yet more pricey. Thus, if you are having a tight budget and do not mind the noise, a centrifugal model can be a reasonable choice.
8. Ease of Use
Everybody wants to relax when they make and drink the juice. Hence, nobody would like to buy a machine that is hard to assemble/disassemble and utilise with too many complicated parts and functions.
Especially, if you are a simple person that is making the first steps into the world of juice, pick a plain model with fewer components and features.
Best Juicer Machine Reviews UK 2023
Best Juicer Machine Under £50

1 – AAUU 400W Juicer Machine Whole Fruit Juicer High Speed
Whether you feed the AAUU Juicer with a whole peeled orange or a leafy vegetable, its 75mm wide feed chute will allow you to insert the materials effortlessly.
And because you do not have to cut the fruits and greens into smaller pieces, more juice and nutrients can be kept while you can save more time, too.
Thanks to the robust 400 Watt motor, everybody can enjoy a glass of fresh homemade juice in minutes. No need to go out to buy costly canned juices or drink at the cafe.
In spite of its huge capacity and high yield, there is very little foaming in the juice. Users are able to select among 3 different speed settings depending on the hardness of materials and how smooth they want their juice to be.
After you get the job done, cleaning everything is super quick and easy since the anti-drip function will prevent the juice from spilling as well as all removable components are dishwasher-safe.
For your safety, you just need to adjust the safety lock arm to its correct position. When running for too long and becoming too hot, the device will turn itself off owing to the overheating protection system.
Lastly, if you buy this best juicer machine under £50, AAUU provides a 2-year assurance, lifetime technical consultation, and quick-response customer service within 24 hours for you, too.
Pros
2-year warranty
Three-speed mode
Overheating protection system available
Wide feed chute
Safety lock design
Cons
2 – AAUU 800W Juicer Machine Whole Fruit and Vegetables
The AAUU 800W Juicer is capable of extracting around 30% more juice, but you can even obtain 35% more minerals and vitamins than most models in the same price range.
Just after a few seconds and some straightforward steps, you can extract up to nearly 65% juice within the materials. You can easily monitor the result via the 1100ml transparent cup that comes with the machine.
There are two different speed settings for you to set. The "Ⅰ" low speed is suitable for juicing soft fruits such as tomatoes or oranges, while the "Ⅱ" fast speed is great for tackling harder materials such as beets, carrots, kale, celery, and so on.
Although the feed chute is solely 75mm wide, it is still quite large, and you can add middle-sized chunks at ease. I can put in an entire pear, orange, or apple for juicing without having to slice them apart.
Except for the main part, all other components of this juicer are detachable for easy clean. You can disassemble and put them into a dishwasher after one minute.
With the micro-mesh filter and BPA-free stainless steel cutting disc, the AAUU 800W promises to deliver 100% healthy juice without any toxin.
When it comes to safety features, the double safety lock will not enable users to use the device without locking its cover in the right position.
Pros
Overload protection
Easy to clean and store
Two different speed modes
Extract more juice
Cons
Best Juicer Machine Under £100

1 – SIMOTAX Slow Juicer
Here we assess the SIMOTAX Slow Juicer to be the best juicer machine under £100. Why? Let us explain in detail.
The first thing of this model that impresses us is its simple design, which is very quick to assemble/disassemble and clean.
Even a novice can install and use the juicer in around 3 minutes with 6 steps. Of course, it should cost the same amount of time to take the opposite steps to take all components apart and clean them.
However, what costs you a lot of time is waiting for the device to extract the juice. The motor revolves at 40 rpm so that the oxidisation process will have less impact on the materials and your juice can keep more nutrients, vitamins, minerals, and enzymes.
It would be the ideal choice for people who love to have perfect nutrition value in their beverages but do not mind the long time it takes to achieve. Nonetheless, in most cases, we find it unnecessarily time-consuming.
Some huge bonuses are a cleaning brush, two stainless steel straws, a free recipe e-book, and a 2-year warranty.
Pros
Leave no pulp in juice
Many useful bonuses
Fewer parts for easier use and clean
2-year warranty
Cons
Inappropriate for celery and similar veg/fruit
Time-consuming
2 – Monzana Slow Juicer
The Monzana Slow Juicer is the best cold press juicer UK to get a high juice yield on all kinds of ingredients from greens and fruits to grasses and herbs.
With the amazing amount of nutrients, minerals, vitamins, and enzymes it retains in the juice, this model is an ideal tool for those who is in need of weight loss, body detoxification, making special diets, and anyone who wants to start a healthy lifestyle.
Everything is straightforward with the large 81mm feeder chute and machine-washable components. You can add an entire apple, orange, or half of pineapple into the chute then the appliance will take care of the rest process.
The robust motor will spin at the rate of 60 rpm to carry out the slow juicing process, which ensures the maximum nutrition and minimum oxidisation. You can feel the homemade juice much more flavourful and concentrated than canned juice and smoothie in the cafe.
After the job is done, just remove detachable parts and put them into your dishwasher. The anti-drip spout will save you time on cleaning the kitchen.
Lastly, we highly appreciate the two huge bins to contain juice, and the extra reverse mode and the pusher to help users make some unique recipes.
Pros
Powerful motor
Quiet operation
Retain more nutrients, enzymes, vitamins, and minerals
Large feeder chute
Cons
3 – AMZCHEF GM3001 Slow Masticating Juicer Extractor
The AMZCHEF GM3001 Juicer utilises with 150W motor to produce 20% more juice with 30% more nutrient content quickly and efficiently.
You can set the machine to work in one of the two-speed modes. In the "I" low-speed setting, the motor revolves at the speed of 50 – 60 rpm to handle soft materials such as cucumber, grape, watermelon, celery, and orange.
Meanwhile, the "II" high-speed setting keeps the motor rotates at 100 – 110 rpm to crush stiff ingredients such as beets, apple, carrot, pear, kale, ginger, or nuts.
At such an incredible rate, the equipment will give you fresh juice in seconds without foaming or clogging. However, the amount of minerals, vitamins, and enzymes it keeps is incomparable with a slow juicer that merely operates at 60 rpm.
Furthermore, AMZCHEF is very generous with this product. The brand equipped it with a 0.5L juice jug, 2 travel bottles, and 75mm wide feed chute.
As such, you can feel the smoothness in all stages from the beginning to the end. No need to cut the fruits and greens into smaller pieces, no need to change juice jug, or clean the pulp collector in the middle of the session.
Pros
Two-speed modes
Big juice jug and feed chute
2-year warranty
High performance
Cons
The machine sometimes may get clogged
4 – Philips HR1832/01 Compact Juicer –

I Highly Recommended
We must confess that we were nearly shocked when we found out this great juicer. The Philips HR1832/01 is the best small juicer that we have ever seen at a modest weight of solely 1.86 kg and a compact size of 15 x 17 x 31 cm.
However, the amount of juice it can produce in a single go is up to 1.5 litres, which is sufficient for a whole family of 4 – 5 people. Good health for everybody and no one has to wait!
We know that many people will worry that this juicer is prone to slip because it is incredibly lightweight and there is often liquid around its base when using. However, the manufacturer understands that, and there is no need to worry about this issue anymore.
Since the machine comes with non-slip feet, it will never skid away even on a wet and slippery table. Besides, you can also twist the drip-stop spout to prevent juices from dripping. Then your countertop will be totally clean.
Most notably, the Quick Clean technology allows users to clean the whole machine without effort in less than 1 minute. Whenever the filter gets clogged, you just need to turn off the device, clean the feed tube, filter, and built-in pulp container then continue with a smaller amount.
Pros
Incredibly compact and lightweight
QuickClean Technology
Come with free health tips and recipes
Quick and convenient to use
Cons
Easily clog when used for veg/fruit with many fibres
Best Juicer Machine Under £200

1 – Sage BJE430SIL the Nutri Juicer
The best juicer machine under £200 is here right in front of your eyes – the Sage Sage BJE430SIL.
The equipment has two different discs: the Froojie discs for pulpy fruits such as strawberries or bananas, and the Nutri Discs for both soft and hard fruits like apples.
You can add the whole parts of those small materials to the 84 mm chute without cutting. This size of the feed chute is large enough for that.
The advanced central feed technology can reduce the heat transfer and extract more than 70% of vitamins and minerals from the materials.
Nonetheless, it does not only deliver a single speed but variable speeds so that users can get the most out of stiff fruits and veggies at a higher rate. You can learn how to use these speed to optimise the juice yield via the intuitive guide graphics included.
The unique extraction system of this juicer comprises a stainless steel micro-mesh filter in the form of a basket and reinforced with titanium.
Pros
Can make juices, smoothies, soups, dips, sauces, and ice creams
Wide feed chute
Advanced central feed technology
Two dedicated discs for different materials
Cons
2 – Sunmaki Slow Masticating Juicer
With the Sunmaki Slow Masticating Juicer, you can make a wide range of dishes apart from juices. In addition to fruits, leafy greens, the device can grind nuts and grains as well.
It is like a mini food mill to prepare baby foods, nut butters, sorbets, and even bread with the included breadstick maker. And regardless of the food that you want it to make, the nutrient within your materials will be kept and provides a rich and flavourful taste for the final products.
The auger of this masticating juicer spins at the speed of 80 rpm. At such a slow speed, it is not strange that this machine operates quietly just like an air-conditioner. And as we measured, the noise it generated was only approx 60 dB.
On top of that, the automatic overheat protection will alleviate any risk of burning the machine, and the non-slip rubber feet would prevent it from skidding.
Be assured about your purchase because the product is covered by a 3-year warranty and certified by CE. Plus, you will also receive lifetime technical support and 24/7 customer service!
Generally, we find the performance of the Sunmaki Juicer unsurpassed since it supplies an amazing juice yield with very little pulp in the beverage.
Pros
3-year warranty
Multifunctional
Quiet operation
Safe and easy to use
Cons
3 – Fridja f1900 Juicer –

I Highly Recommended



The Fridja f1900 Juicer is the latest juicer of Fridja with the new design of 2020 technology. It has a heavy-duty stainless steel body that is extremely stable and helps the machine operate more quietly without vibration.
This masticating juicer rotates its auger at 65 rpm to efficiently preserve all the enzymes, vitamins, nutrients, and minerals from being damaged.
In this way, there will be less foaming, heat build-up, oxidisation with no clogging. Achieving the highest yield and the driest pulp is easier than ever.
Still, the most significant value of this model must be its fantastic versatility. You have a new sieve to remove the bits or add them into the juice as you wish.
Moreover, the Fridja f1900 is capable of extracting plenty of materials including fruits, greens, ginger, celery, wheatgrass, and nuts to make juices, sorbets, ice creams, cocktails, nut butters, and nut milks!
One more thing that many users like about this juicer is the two-function anti-drip tap. First of all, of course, it will prevent your little kitchen from being messy. And the second function is to mix two or more different materials to combine their flavours in one juice.
Pros
Can add or remove pulp bits as you wish
Can be used to make ice cream, butters, and milks
Quiet operation
Anti-clog reverse function
Two-function anti-drip tap
Cons
Challenging to assemble/disassemble
Best Juicer Machine Under £300

1 – JR Ultra 8000S Multipurpose Whole Slow Juicer –

I Highly Recommended
The JR Ultra 8000S Juicer is not only the best juicer machine under £300 but also the best slow juicer UK in the current market.
Yeah, we know it is quite inconvenient to wait for a juicer machine to extract juice at the speed of 60 rpm, but the result for this does worth it.
In fact, you just need to be a little more patient to wait for a few minutes longer, and this device will compensate its users the most nutritious and fresh drink ever with full of live vitamins, minerals, and enzymes.
Besides, the feed chute is quite large, so you do not have to chop the materials too many times. Combining these two factors, your fruits and veggies will be hardly affected by any harmful effects of oxidisation.
Although you may see that the equipment operates quite slowly, do not underestimate its power. This beast features a massive auger with raise nodules to crush even the toughest ingredients like celery and types of nuts.
And with the patented advanced squeeze system (A.S.T.S), no nutrient can escape, and nothing can stop this juicer. You can totally assess this aspect when looking at the removed pulp.
Pros
Produce the most nutritious juices
Wide feed chute
Advanced squeeze system
Slim and sleek design
Cons
2 – Sage SJE830BSS Juicer
With a sleek appearance of polished stainless steel, the Sage SJE830BSS Juicer is the most good-looking juicer we have ever seen. However, set that factor aside, what makes us add it to the list is its wonderful features.
The new Cold Spin Technology enables the juice to flow up via the cutting disc enclosed by a mesh filter to reduce the increase in temperature and the effect of oxidisation.
What's more, the 88mm large chute feed allows users to juice the entire greens and fruits without pre-cutting. Only some big materials such as watermelon or pineapple need to be cut into halves or quarters.
Although the appliance itself is quiet already, its quietness is still further enhanced with the patented Noise Reduction Technology. If you are not frequently in a hurry, just put the materials into the chute and set the machine to run in the quiet mode.
Nevertheless, for harder fruits and veggies or if you want to make the juice quickly, turn the knob to the "Fast" or "Boost" level. Don't worry about the device heating up because there is an overload protection sensor here.
Besides, the XL 70 fl. oz. ( 2L ) jug can be sealed and stored in the refrigerator for up to 3 days if your family cannot consume all of the juice that this juicer can make in a single go!
Pros
Huge XL juice jug
3-speed settings
Cold Spin Technology
Very wide feed chute
Noise Reduction Technology
Cons
3 – Omega CNC80S Juicer
The Omega CNC80S Juicer promises to never let you down with the premier 15-year assurance on all parts and performance from the brand.
Thanks to the ergonomic design, the juicer is very mobile and can be brought with you on any trip if you and your family want to enjoy fresh juice on travel.
In fact, it can do more than that. As the manufacturer advertised, we tried making ground coffee, and spices, pasta, nut butter, frozen desserts, baby food, minced herbs, and soy milk with this juicer and the results were beyond our expectations.
The motor spins at a low speed of 80 rpm, minimising heat build-up and oxidisation to retain the majority of healthy nutrients, vitamins, minerals, and enzymes.
Furthermore, the model comes with an automatic pulp ejection so that you will unlikely to meet clogging trouble and can save time on cleaning the device.
Pros
Can make a lot of dishes
15-year warranty
Automatic pulp ejection
Keep nutrients well
Cons
Best Juicer Machine Under £500

1 – Kuvings Evo820 Juicer –

I Highly Recommended
The Kuvings Evo820 Juicer passed the Indy Best Juicers test by The Independent to become the BEST BUY JUICER 2021, and it is also the best juicer machine under £500 in our list.
Its distinguished "flip gate" feeding chute is as wide as 82mm, allowing you to insert big fruits and vegetables without cutting them multiple times. This both saves your prep time and reduces the mess in your kitchen.
The hinged lid will swing backwards and forward, and an entire apple/orange can drop straight into the auger's path. Moreover, there is also a secondary opening available in the lid, which is excellent for juicing leafy greens and carrots.
Unlike most models in the market, the base of this machine is made from textured leather to bring about a premium feel and prevent the equipment from slipping.
It is easy to clean the device thanks to the cut-away pulp outlet. This part contains almost all the pulp generated so that you can remove it at ease. Then washing other components will take less than a minute.
Plus, because of the 4-point interlock system, the 5th generation juicing drum connects to the motor very firmly. It should never fall apart and cause any trouble for you.
Pros
Sturdy construction
Textured leather base
Extensive feed chute
Superb performance
Easy to gather pulp and clean the machine
Cons
2 – Omega J8226 Multi-Functional
The Omega J8226 Juicer extracts juice at a very low rate of 80 rpm, which may cost you a few more minutes to enjoy the drink but this is to alleviate the oxidation happening to the nutrients within the materials.
The exclusive single-auger mechanism will separate the juice from the materials in two stages. Firstly, it will crush the food to release a portion of the juice inside. Next, when the pulp goes along the auger, there will be a huge amount of immense pressure created to extract the remaining juice.
As you can see, after the two stages above, nothing is wasted within the pulp. All the tasty and nutritious juice will be stored in any container you place under the output.
Since all the ingredients are handled thoroughly, you can use this machine with any leafy veggies, fruits, nuts, and many more. No matter what material it is fed, we can see that the pulp separated out is nearly as dry as a bone!
Also, the Omega Juicer 8006 boasts its excellent durability with ULTEM auger and chrome-plated body. These materials ensure the 4 – 5 times longevity compared to standard plastics.
For all of the above reasons, this product deserves to be the best juicer for fruits and vegetables.
Pros
High juice yield and nutrient value
Very quiet operation
Multifunctional
Solid construction
Easy to clean
Cons
3 – Omega VSJ843R Juicer
The Omega Juicer VSJ843R is a fabulous solution for those who want to enjoy numerous dishes apart from juices only. In addition to vegetable and fruit juice, it is capable of making a wide array of foods such as smoothies, frozen fruit sorbets, and nut milks.
Applying a low speed of 43 rpm, the squeezing system of this juicer nearly emits no sound when running. At this slow rate, the advanced dual-edge auger can strain the materials for more juice and break down every of the smallest fibres into a nutrient-dense and smooth juice.
Like other slow juicers above, the Omega Juicer VSJ843R will squeeze fruits and veggies gently to keep enzymes, vitamins, and minerals intact while reducing heat build-up and oxidisation, increasing the shelf life of the juice.
We really love the patented automatic pulp ejection and the auto-cleaning system. We can make juice continuously without worrying about clogging, and it will also cost less time to clean the machine afterwards.
Still, the best part has not come yet. Believe in your eyes when you see that this model offers a 15-year warranty on parts and motors. So, the chances are that you will not have to buy any juicer else for at least 15 years forward!
Pros
Super-long 15-year warranty
Automatic pulp ejection
Auto-cleaning
Can make many types of food
Retain a lot of nutrients
Cons
Best Juicer Machine Under £1000

1 – Tribest GSE-5000 Elite Juicer
As there are not many deluxe options for simple appliances like juicers, we can easily find the Tribest GSE 5000 as the best juicer machine under £1000.
With the premier Twin Gear technology of the brand, Tribest adds an innovative mixing stage between the two traditional rushing and pressing stages.
In other words, users can mix both the juices and pulps of different materials together thoroughly to create a new healthier juice.
The two gears will be driven by a quiet yet robust motor to run at a slow pace of 110 rpm. Therefore, it may take you longer to make juice, but you will not have to hear annoying noise and the final products will retain more nutrients, vitamins, minerals, too.
Most noteworthy, there are unique Bio-magnets in the Jumbo twin gears to pull more minerals into the juice, which improves the juice's bioavailability. Thereby, your body can absorb and use the dissolved minerals more effectively.
If you often have to move your juicer to various places, this portable model is an ideal choice. It weighs solely 12.3 Kg at the size of 47 x 32 x 18 cm and comes with a convenient carrying handle.
Pros
Extract more juice with more nutritious content
Easy to disassemble and clean
Quiet operation
Ergonomic design
Cons
The feeder chute is tiny
Work slowly
Conclusion
Now, have you find out the right choice for you and your family? We know there are many excellent options there, but you just need to spend a few time to determine your desired features and a suitable budget to know which is your ultimate decision.
Hopefully, our best juicer machine reviews UK are helpful. Thanks for reading!