As an Amazon Associate, I earn from qualifying purchases.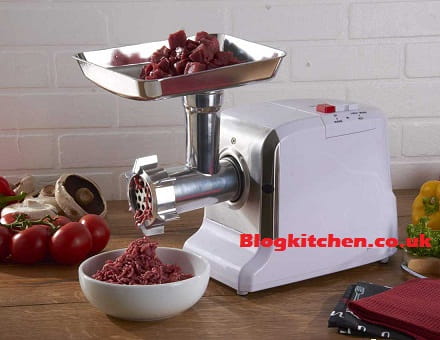 If you go online and search for recipes that you can make with minced meat, you will receive hundreds of simple yet delicious results.
At home, we usually chop raw or cooked boneless meat as finely as we can for a lot of recipes. Sometimes we chop raw beef, sometimes we have cooked fish, and on some other days, it is vegetables.
But raw meat can be very tough and chewy to be chopped finely. This is when you need an automatic electric grinder to do that for you!
In the later part of this post, we'll have some best meat grinder reviews UK to help you make up your mind.
What is An Electric Meat Grinder?
People also call the electric meat grinder as meat mincer in some parts of the country.
So the question here is: what is an electric meat grinder?
Because the number of recipes with minced ingredients increases, home and commercial electric meat grinders have become more and more popular. Although when you are chopping food by hand, it does feel like you are performing on the MasterChef stage, but the food could be crappy after that!
Nowadays, many people own a big or small electric meat grinder at their home to replace the mincing knife and serve their daily needs.
With the help of a meat grinder, mincing tough meat will no longer be a burden! Now we can easily make our patties, meatballs, burgers, and even lasagnas at home.
How does it operate then?
Well, when you want to grind the meat, you'll only need to put it into a funnel on the top of the grinder.
The meat then will go through a screw conveyor powered by an electric motor to partially squash the food. After that, it will end up in front of the grinding knife, and then coming out through the plate's holes as minced meat.
How To Choose The Best Meat Grinder?
Before buying a new meat grinder, you'd better know why we should use it at home:
The very first reason is that you can ensure yourself freshest meat possible when you do it at home, with the half-frozen meat from the fridge! You will also have control of the fat ratio and customize it to fit your diet needs.
Moreover, if you love recipes with patties or meatballs just like us, a home meat grinder will save you tons of nickers compared to buying pre-minced meat!
But why should we choose an electric meat grinder over a manual one?
Well, it's true that manual meat grinders are more affordable and require less space, but require you to do all the grinding work! So, do you choose to save money, or to save time and effort?
Although electric meat grinders are bigger and costlier, it makes grinding tough meat become so effortless and simple! Once you decide that you must have an electric one, you can move on to the next part and learn how to choose the best meat grinder for your kitchen.
Grinder Size
Electric meat grinders come in many different capacities, from the small home-use grinder size 5 to the commercial one of size 32. The size is determined by measuring the grinder plates, like size #5, #8, #12, up to #32. You will also see another possible space measurement for capacity is pounds per hour.
Smaller grinders have smaller feeding tubes. Meanwhile, larger ones will come with larger feeding tubes that allow you to put more and thicker meat inside at a time. Besides, smaller size ones usually have less power, resulting in a slower and less fine grinding process.
So, if you have a big family or usually have guests, your grinder should be as big as possible. By that, you can grind the meat quicker and have spare time to prepare your big batch of homemade sausages!
But the fact is smaller grinders are much cheaper compared to bigger guys. So if you only do about ten pounds of meat at a time, a tiny one will be just fine!
Power & Versatility
The second detail that you should pay attention to is the motor of a particular electric meat grinder. It's the motor power that determines the how much meat you can grind per hour and how much time you can save!
Nowadays, home use grinders have a really powerful motor – often around 700 to 1000 watts, while others can come with up to 2000 watts. Generally, it's best to have a heavier duty grinder since it will allow you to grind more meat and save time.
Most of the grinders out there don't have any problem grinding raw meat even if it is beef, chicken, pork, elk, or venison. However, if you want to buy a grinder to make raw pet food, you will need something with extra strong motors that can grind through bones too.
Big and pricey grinders, like a commercial one, also come with some cutting wheels and accessories to help you cut different kinds of food. For example, many grinder are equipped with stuffer attachments to fill bratwurst for some homemade sausage lovers. Others also have cube attachments to cut meat into cubes or special blades to grind vegetables for salsas and sauces!
Material & Durability
Although the fact whether your meat grinder is durable or not depends a lot on how you use it, you'd better pay more on more reliable materials.
Along with material, there are also various different grinder constructions. Some have metallic or steel casing, which can last much longer than ones made of plastic.
Meat grinders that feature stainless steel blades and grinding discs cost more than carbon steel, yet they are more sturdy and rust-resistant! But for grinders with all-metal gears, you should check whether the motor is well lubricated or not regularly to avoid overheating hazard!
Regularly, home-makers will chill their meat to the half-frozen state for best results. It's best for your grinder if you keep the meat cold, or at least cool during the entire process.
It also helps the metal parts of your grinder stay chilled and avoid overheating. Unfortunately, plastic components can not retain the cold very well. In this case, you will need to separate the meat into smaller batches for mincing!
Best Meat Grinder Reviews UK 2023
So you've learnt how to choose the best meat grinder for your kitchen. Now you should apply those criteria on those below products to see whether it is your "perfect guy"!
Best Meat Grinder Under £100

Our instinct usually leads us to the cheapest available options when we are shopping. Do you believe that with a budget of less than £100, we can still find some nice good-quality meat grinders?
1 – IMURZ Electric Meat Grinder – Best Meat Grinder for Home Use

At the beginning of our electric meat grinder reviews, we will start off with this affordable and good-quality IMURZ meat grinder!
Upon receiving, you will find out that this little beast comes with lots of accessories. A full pack includes three steel cutting plates of different sizes, a sausage adaptor, a kibbe attachment, a silver plate tube, some other equipment, and obviously one meat grinder!
This IMURZ has a very powerful motor – a 2800 watt peak copper one that allows you to mince a vast amount of meats in no time. This bargain must be the best meat grinder under £100 with that unrivalled power!
Since the meat mincer is so powerful, could everybody in your family use it?
In other words, is it easy to use?
Well, it is not only easy to operate but also easy to clean! You can simply switch the little beast on with an on/off switch and start making stuffing and filling. There is a large aluminium meat tray to hold a generous amount of meat for one grind that you can remove anytime for cleaning!
One downside of this IMURZ meat grinder is that it's a bit noisy while working. It does run stable, but stably loud! Also, you should keep in mind that this set can be washed by hand only!
Pros
Brilliant quality for the price
Perfect for home use
Sturdy and stable
Easy to use, assemble, and clean after each use
Last for a long time
Cons
2 – Andrew James MG-18OA Meat & Sausage Grinder –

Editor's Choice User-friendly Grinder
Why do we say that this Andrew James MG-18OA grinder is incredibly safe and user-friendly?
First, its motor's power is of lower-average range compared to other sausage grinders on the market, only about 700 watts. But to our surprise, this guy does its job amazingly well!
It can mince and grind many types of food, from pork to fish, beef, herby, to even chicken, boneless or not!
However, we see that the manufacturer did leave a warning that the tool should not be used to grind bones. But we've tried and found that it's completely okay to have small bones inside in case you're grinding pet food!
The full package includes three stainless steel cutting plates, three sausage maker adapters, and some other attachment for a variety of recipes you can choose.
Furthermore, the product comes with a two-year manufacturer's warranty if you notice any problems with your grinder.
Even so, Andrew James MG-18OA faces the same problem as the IMURZ meat grinder above: it makes too much noise when working! We think maybe it is because this AJ is heavier than the IMURZ that when it vibrates, it sounds much louder!
Pros
Safe and easy to operate
User-friendly meat mincer
Great for making pet food
Heavy and stable tool
Cons
3 – Duronic MG301 Electric Meat Grinder and Mincer –

Best Affordable and Powerful Grinder
Some days in life, we find ourselves too busy and literally have no time to prepare the family meal or any home party. At that time, we just need a super quick and easy way to make food without thinking too much about the recipe!
If you are here, you are the lucky ones. Duronic MG301 electric meat mincer is powerful enough to help you grind your chilled meat immediately and freshly at home. After that, you will have a variety of choices to choose from – those quick and delicious recipes like patties or kobbes for your home party.
Besides, the grinder is very affordable so that you don't have to worry about spending too much of your budget on a kitchen chopper!
This might surprise you, but the Duronic MG301 has an incredibly powerful grinding motor – its maximum can even exceed the IMURZ's above. This meat chopper comes with a strong rated 1200W motor, which could reach maximum wattage of 3000W and cut meat like a hot knife through butter.
That is why we say that this guy will help you shorten your meal preparation a lot!
Pros
Powerful and adaptable motor
Comes with necessary equipment
Some parts are dishwasher safe
Cons
Beware of overheating and plastic material
4 – Nestling 2800 Watt Electric Meat & Sausage Steel Grinder –

Editor's Choice for Best Low-cost and Reliable Meat Grinder
In many years, Nestling has been famous for its low-cost yet highly-efficient kitchen tools. This Nestling 2800 Watt Electric Meat Grinder is definitely one of their top-tier products!
Why so?
This guy has a powerful 2800 watt peak copper motor to cut your food in no time. With the metal gears and stainless steel blades, it will take you no effort to grind the meat finely and beautifully!
What we like most here is that this low-cost product has great user protection. There is a meat pusher included in the pack to push meats into the grinder without any risk of cutting your own hands and fingers. You could also find out that it has a built-in circuit breaker to prevent motor burnout and overheating issues!
However, the manufacturer says the Nestling electric grinder can not be used to grind bones or hard objects since they could be stuck inside. We have not tried this yet, but we think that small bones or something like nuts and dried fruit still can go inside, but big hard bones can never!
Pros
Run smooth and reliable
Inexpensive
Take no effort to operate or assemble
Definitely worth your money!
Cons
5 – Nestling Electric Meat Mincer Grinder 2800 Watt – Best Budget Meat Grinder

Do you think that the Nestling Silver above is a low-cost meat mincer?
Well, it is an affordable guy, but this Nestling Electric Meat Mincer 2800 Watt is even cheaper than that! For customers with a super-duper tight budget, this must be their perfect option.
A simple comparison: the Nestling Silver costs around £100, but the Nestling White cost much less – only about half the price of that Nestling Silver!
But does that price drag its performance down?
Hell no! Its motor is still a robust 2800 watt beast that can grind through meat and vegetables to make ground meat and stuffing sausage.
However, this Nestling capacity is sure smaller. Smaller size also leads to a lighter unit but more time on preparation.
But the product does come with every necessary attachment like a full-size grinder. We see that it has three cutting plates of different diameters, in which the 7mm could be used for coarse, the 5mm for medium, and the 3mm for fine grinding. There's also some sausage funnels and Kibbe attachment for additional possible recipes!
Pros
Super budget-friendly meat mincer
Good value for money
Easy to use and clean
Cons
Best Meat Grinder Under £200

Now you've known those grinders for tight-budget consumers, what about the heavier-duty one for both home and commercial use?
1 – Bosch ProPower MFW68660 Meat Grinder –

Best Versatile Grinder with Easy Store Stacking System
Have you ever heard of Bosch before?
Bosch has been a well-known company for manufacturing home appliances from a long time ago. Literally, every home-maker said that they had already seen Bosch name several times when they are shopping for the house.
Why can they be so popular?
We think that it is partially because they have excellent customer service! They always include some online guides and instructions so that their customers can easily follow. For example, here is the Bosch ProPower MFW68660 meat grinder Instruction Manual, Instructions for Use, or Product Spec on their web page.
This grinder is probably a little adaptable piece for any meat lover. Do you know that it has more than 20 modes to facilitate everyday cooking?
What a great bargain!
Like any other grinders, the Bosch Pro Power also comes with three meat grinding discs of different thicknesses: 3 mm, 4.8 mm, and 8 mm.
But the best thing about this tool is its compact and intuitive design. It has on-board accessories storage to store the cable and disk when you don't use them. A non-slip base will ensure your safety and stability while the tool operates.
Pros
Stable 800-watt motor
Versatile accessory to make your own recipes
Rubber feet for extra stability
On-board accessories storage
Excellent customer service
Cons
Plastic accessories seem unreliable
2 – Kenwood MG510 Meat Grinder –

Best All-rounder Meat Grinder
Kenwood manufacturer is just a little bit not as famous as Bosch, but they are still a popular brand with kitchen equipment of all categories.
This Meat Grinder MG510 from Kenwood is one of the signature products in their meat grinder range. It is an all-rounder piece of grinder made of rushed metal with a powerful 1600W motor.
What do we mean by all-rounder? Is it the best electric meat grinder under £200?
To answer these questions, let talk about each feature that we are always looking for:
First, about versatility: this Kenwood comes with three stainless steel screens of different sizes for fine, medium, and coarse outcomes. There are also separate attachments stored in the pusher in case you want to make sausages or kibbe!
Second, about smooth and safe functioning, this guy has an on/off switch and reverse function. They allow you to operate the tool safely and make sure that there is no meat left inside the chopper.
Moreover, this unit is super durable thanks to its stainless steel mincer head and die-cast metal hopper for extra durability and easy cleaning!
Pros
Powerful 1600W motor
Wide range of attachments included
Easy cleaning
Cons
3 – Kitchener Electric Meat Grinder –

Best Powerful for A Modern Kitchen
We have some friends that prefer a modern-looking kitchen that is shiny and cold. Their interiors are coloured in black, white, and mostly stone grey. In that room, you may need all your cooking tools to look cool and fashionable to fit in the atmosphere, too!
This Kitchener Electric Meat Grinder is designed with extraordinary home performance and professional-looking features. It looks even more gorgeous in the store than in the picture!
The manufacturer has made this guy from shiny premium metal with a superior 1/2 HP 370 watts motor. Also, the die-cast aluminium body somehow gives it a unique strength and elegance balance.
Besides, the Kitchener Electric Meat Grinder also has a full suite of accessories included in the package. Regular grinder sets have three sizes of cutting plate, and this product has one bonus. So basically we have four stainless steel cutting plates of 3mm, 5mm, 8mm, and 12mm plates to cut different textures and food types.
Pros
Modern-looking grinder
Professional features
Powerful motor
Various accessories to choose from
Cons
Best Meat Grinder Around & Under £300

And now, we will come to some beast that can actually work as a commercial meat grinder at your home restaurant.
Their price might be a bit high, but we can claim that it gonna be worth every quid you paid!
1 – MosaicAL 1100W Electric Commercial Meat Grinder – Best Heavy Duty Meat Grinder

Welcome to the first heavy-duty commercial grinder in our review list: the MosaicAL 1100W Electric Meat Grinder!
This MosaicAL meat grinder is built from commercial-grade stainless steel which is super durable, also vibrate and impact-resistant. Its strong motor is made of copper, with the power of 1100W and productivity of up to 550 lbs.
What does it mean by 550lbs productivity?
It means that with this powerful motor, we can process up to 550 pounds of meat in just an hour! It literally takes no time to prepare a whole table different dishes.
This product must have been designed for heavy-duty jobs. Moreover, it can grind through a massive piece of meat with bones with little difficulty.
In case you want to grind more and more with a commercial tool, then this guy has a total of five grinding plates and two cutting blades and many other attachments!
The only possible thing to let us down about this product might be its price. It's really costly that not all home-makers can afford that. But if you have a flexible budget to get yourself the best meat grinder under £300, just go for it!
Pros
Heavy-duty construction
Non-slip robust rubber feet
Five cutting plates and two cutting blades
Come with feeding plunger and sausage filler
Cooling fan to get rid of overheating
Cons
2 – KITGARN Meat Grinder –

Best Commercial Grinder
Here is our final product, another heavy-duty commercial meat mincer option for you rather than the MosaicAL above. This KITGARN 750W electric meat grinder has pretty the same specifications to the MosaicAL, but cost a little less than that (yet it's still an expensive piece)!
But if you do not want to pay an additional fifty quid on a commercial mincer for your restaurant, you can always choose this Kitgarn as an alternative for MosaicAL. From what we see, they work as efficiently as the other.
The outside of them look pretty identical but pay close attention, and you will see some differences. The reason is they are all built from high-quality steel that great at absorbing vibration and impact.
Inside both Kitgarn and MosaicAL mincer, all inner components like the head and tray are entirely made of high-quality stainless steel that meets the highest hygiene standards. They are also easy to clean, too!
Pros
Great for commercial use
A lot of accessories
Cool productivity for quick grinding and preparing
Cons
Conclusion
And that is everything in our best meat grinder reviews UK this time!
Could it be any help to you?
At least, now you've learnt the extensive list of possible (and delicious) recipes that you can make in no time with the help of a meat mincer! Now we can have fresh sausages, pates & pastes, falafel, burgers, meatballs, and even vegan sausages for our everyday meal.
Also, before jumping into buying any new meat grinder, remember to check all those criteria that we've told you above! They will be very useful if you want something to last a long time in your kitchen.