As an Amazon Associate, I earn from qualifying purchases.
Are you planning to hold an outdoor Barbeque party this weekend? If so, you might want to learn how to use a charcoal BBQ and other useful tips from our blog!
Read on and master some smart techniques to get the best barbeques summertime party ever!
How To Use A Charcoal BBQ?
Starting A Charcoal BBQ
In fact, it is quite a challenging task for those who have never experienced grilling with coals before. However, it will turn easier once you start knacking skills for charcoal grills and being familiar with lighting a barbeque.
Here are some simple steps to get fire ready to grill your suppers:
Choose the right charcoal type: Traditional briquettes and hardwood/lumpwood are the two most common types available on the market.
You can buy the briquettes at affordable prices for a longer burn and easy light; whereas, the lumpwood one is made from pure wood will give you more smokey and intense flavour to the food. This kind lights faster and burns hotter, and thereby, it costs a bit higher than briquettes.
Take cooking grates out: To remove the barbecue grills, you need to lift them and get the coals.
Open the vents: Before you strike a match, let oxygen go through the vents to maintain the fire.
Place the coals in the barbeque: Put some bits of traditional briquettes or lumpwood in the starter burn for at least 10 minutes until it stops smoking. Then, add some burned coals and mix them up with those unburned ones.
Set the temperature: You can adjust the vents to control the cooking temperature after igniting the coals. Make the vents wider for more fire and smaller vents with less oxygen and lower temperature.
Be aware of the flames: To prevent the extreme heat from burning out your delicious food, keep a close eye while grilling.
Cleaning Charcoal BBQ
It's a great idea to do a quick clean right after finishing the cooking. One of the best ways is using a specialised brush to clean the cooking grates while they are still hot. In particular, the heat will make it easier to remove the grease and some of the burned food particles.
You need to empty the ash pan in the grills, then clean the interior and exterior with dish soap.
Tips: Use half a peeled onion to rub on the grills at high heat to clean off the baked-on scrap!
Some Simple Tips To Deal With Charcoal BBQ
How To Extinguish A BBQ
When it's time to turn off the grills, all you need to do is safely close the vents on the bottom of the barbeque and the vents on the lid.
Keep in mind not to move your outdoor cooker around because it's still hot. Take out the grilling grate from it first. Then,  let it cool down for some time before cleaning up.
How To Use Tools
There are a lot of helpful gadgets that will assist you during grilling, from basic tools to complex accessories. These tools are simple-to-use:
 A wire brush helps clean off the debris in the section of cleaning BBQ.
A metal spatula or tongs. Without its help, you cannot blend coals in the outdoor cooker.
In addition to the chimney starter for lighting a BBQ: A grill light, grilling planks, and grilling basket.
How To Clear Away Ash And Charcoal
Remember that grilling with coal always produces ashes and residue, which need discarding cautiously.
The coals and ashes should be cooled before you get rid of them. However, they can take a day or two to be fully chilled. In case you are in a hurry, carefully pour a handful of sand over the blacking coals to ease the heat.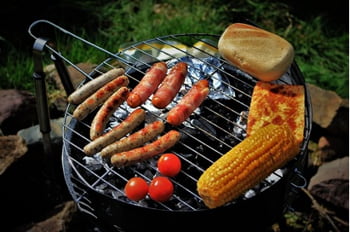 Recommendations For Charcoal BBQ 
Try to flip food only once for the best grilled marks.
Do not press down on the meat for too long, or it will lose its juicy taste.
Frequently modify the vents to have the best heat.
Keep the cover open while grilling.
While waiting for the main dishes to be grilled, you can try baking some kinds of vegetables or fruit.
Conclusion
Now you have learned how to use a charcoal BBQ! A reminder for you: Heating grills does take a while! Therefore, do not rush to touch and clean them right away. Be patient and follow all the tips we have listed down in this blog!