As an Amazon Associate, I earn from qualifying purchases.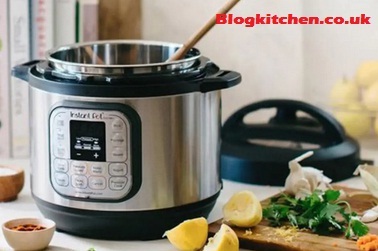 Cooking a good meal doesn't have to be as time-consuming as in the past. With the best electric pressure cookers UK, you will be able to create delicious, appetizing dishes only in the small amount it'd take with traditional cooking methods. Using an electric pressure cooker is one of the better and fastest hands-off ways to get your dinner.
Thanks to the rise in technology, pressure cookers' models are improved for the utmost comfort and efficiency. But the market for pressure cookers is busy, and choosing the right cooker will be tough. With our electric pressure cooker reviews UK, we hope that you will have an informed decision as to which among them is the best for you.
But before we get to the list of the best products, we must first know what the product is.
What Is An Electric Pressure Cooker?
To know what an electric pressure cooker is, we have to know first how pressure cooking works. Cooking with pressure means just that: you remove the air from the vessel and thereby increase pressure. By creating a high-pressure environment, your food will get much hotter much quicker than using traditional methods.
With a conventional pan, boiling is the usual way to cook the food, while a pressure cooker uses another method. Its lid is tight-fitted to allow steam to build up more and return heat to the cooked food. Cooking time will be reduced significantly, and subsequently, the food's nutrition will be reserved and kept. There's also less energy spent on cooking.
Using a pressure cooker, no matter what food it is, you can cook it. This can even be a whole chicken, which might only take you just under an hour or even less.
How To Choose The Best Electric Pressure Cooker?
There are several things you must take note of regarding an electric pressure cooker. These factors are the most important things you must look for before shopping for a pressure cooker; they will determine how well the cooker performs and how suitable it is for your intents and purposes.
Size
When we talk about the size of electric pressure cookers, we can't go without mentioning the distinction between the electric cooker's apparent size and its internal capacity. They are related to each other and indeed, if you have a cooker with a large capacity, surely it would appear large as well.
But sometimes, it happens that outwardly bulky electric pressure cookers have small internal capacities, so it's apt that you check it thoroughly first. Usually, this bulkiness is for durability itself, so they're not without use, but if you need one with a larger capacity, you should consider if it's worth it to sacrifice.
There are other considerations as well, such as the type of food you will be preparing and cooking and the number of people in your household or those you're making meals for. Certainly, these will factor into the size of the electric pressure cooker that you choose.
An electric pressure cooker with a larger capacity will cost more, however. If you're looking to save money, an option balanced in both the price and capacity will be what you need.
Materials
Good, quality pressure cookers tend to vary in the materials that they are made from. If you're prepared to spend more, the first thing you should look into is better, higher quality materials. The pricier, the higher end the pressure cookers, the more likely that they are made from stainless steel rather than aluminium.
These cookers will have a thicker base, which makes them much more durable than other models which are cheaper. They might also come with a guarantee that lasts a lifetime, which ensures that you will get your money's worth.
There are some other solid aluminium models out there, indeed, but one thing to note is that they may not truly be non-stick great for inductions.
Flexibility
Electric pressure cookers can be used for many appliances, or and sometimes it can be mentioned as a multi-cooker. It can be a steamer, a slow cooker, or a rice cooker, and it can even have settings solely for things like yoghurt and porridge. Check your fridge and see if anything can be cooked with the pressure cooker you intend to use, then decide on one with a designated set of settings.
In terms of flexibility, we also need to talk about the various pressure settings electric pressure cookers might have. Some pressure cookers only have one setting, but others might have two or more (ranging from low to high pressure).
Low-pressure options of the electric pressure cookers will be more energy-efficient and can be used to cook foods that require delicacy, such as eggs, fish, or vegetables. But high-pressure ones compensate for this with their ability to cook quickly and efficiently.
Some models also have a setting to fully automate cooking for you with their automatic pressure release systems. You can leave your cooking to the devices and come back when it's done without releasing the pressure manually. But generally, this will come with a higher price tag, which leads us to the next point.
Safety
Although pressure cookers were on the receiving end of a lot of bad press in the past, including stories such as them malfunctioning or exploding mid-usage, the models of today will give you the utmost peace of mind when cooking. They will come with their own built-in safety features, although these will vary from cooker-to-cooker basis.
One of the most common features is the locking lid. Most electric pressure cookers nowadays will have it, which helps prevent you from accidentally opening and releasing all the hot steam buildups. There are also other models which have more than one vent, so that the heat is dissipated.
There might also be a second pressure release valve that comes with an electric pressure cooker, which works as a backup in case the main valve is stuck or blocked. The most advanced models will have temperature sensors that will apply an auto shut-off mechanism if it senses that something is wrong.
There are some other safety mechanisms as well, but the first thing you should do is reading up on the safety information contained in the manual carefully before getting started with cooking. This will help prepare you against anything that might go wrong.
Price
This might seem obvious enough, but regardless, it's a very important feature to consider as the electric pressure cookers' prices can vary a lot. The best-rated electric pressure cooker out there can also mean a hefty cost.
Truly, finding the best value for your money in terms of electric pressure cookers can be a difficult thing. Another problem is that the most expensive cooker can just as well not be the best one. And sometimes a cheap one can do much better for your purposes.
Regardless, this is something that must be considered along with everything else. You must factor in your budget and how the cooker will satisfy your needs, then act accordingly.
Other features
Electric pressure cookers are packaged with features that seem unbelievable if you've only ever used regular cookers before. They can be slow cooking features, searing, deep-frying, or even baking oriented features that give you the utmost comfort.
Other things like timer functions can also be the difference between a time-consuming process and an efficient, enjoyable, and easy one. There's rarely anything better than getting your meals done quick, nice, and in style.
Best Electric Pressure Cooker Reviews UK 2023
The electric pressure cookers' market is quite difficult to get into due to the products' oversaturation. But regardless, as a customer, you can still decide which the best electric pressure cookers UK are, with our help.
1 – Instant Pot IPDuo-30 Duo Mini
Instant Pot is one of the most trusted brands for electric pressure cookers, and this IPDuo-30 cooker is possibly the best digital pressure cooker in the UK, or one of them. It's a flagship product from them and guarantees to satisfy everything required of an electric pressure cooker. To see why let's first delve into it.
This electric pressure cooker has a generous capacity designed specifically for smaller families or environments where there's not much space to move around, such as a dorm, RV, or a boat. It will optimize the space that you can cook with while not taking up more than necessary. The Instant Pot also duo mini emits no steam, heat, or cooking smells for more comfort.
The Instant Pot Duo Mini features fully automatic pressure cook programs, with three slow cook heat settings for saute, rice cooking, steamer, yoghurt making, and more. It also has a delay start and automatic warm system in place. Using this electric pressure cooker takes no effort at all.
Additionally, this pressure cooker is also powerful enough for all operations. It features 700W power to enable it to reach pressure quickly and easily. The internal components that come with the cooker are made of stainless steel, which includes a lid and an inner cooking pot. They are dishwasher safe, so you don't have to worry about durability.
A weakness that this Instant Pot pressure cooker has is that it can be slightly big if you only cook for two people. So despite the smart design, take into account if the electric pressure cooker is suitable for your household.
Pros
Generous capacity
3 slow cook heat settings
700W power
Delay start
Automatic pressure cook programs
Cons
Can be big for two people
2 – Ninja Foodi Mini Multi-Cooker OP100UK
This multi-cooker from Ninja Foodi can be the best small electric pressure cooker UK for crispy food. If you're stuck between buying different devices for making healthy, quick meals, such as an air fryer, this Ninja Foodi pressure cooker will certainly put themselves into the conversation.
It's a chunky, bulky, and heavy multi-cooker, so many might think that using it will come with many complications. If you look closely at the device itself, there are many things to note, such as its grills and bowls or some other contraptions.
But this is its strength: what's great about the Ninja OP100UK is the fact that it's a standalone unit, one with great versatility. If you buy one of these, you will have no use for other things such as the oven or hob. It can be many things at once, such as a pressure cooker, a slow cooker, or even an air-fryer.
It comes with a second detachable lid that can work as a slow cooker, while the functions for the main lid can be the same as a crisper, which has many uses, from adding colours to roast chickens to frying chips for pressure-cooked potatoes. It's simple to use, but it can be a bit more difficult to unlock using its natural release.
A caveat of this piece is that its crisping function can be a bit trickier to use, so you will have to check on your food lest it becomes too brown manually. Regardless, it can justify itself as one of the best rated electric pressure cookers with the mentioned features.
Pros
Standalone unit
Versatile in cooking functions
Durable
Multiple lid functions
Cons
Difficult to use crisping function
3 – AmazonBasics 23 in 1 Multi-Purpose Electric Pressure Cooker
AmazonBasics has produced many quality home appliances, and this multi-purpose electric pressure cooker from them is certainly proof of that. Despite getting into the market quite late, it can compete with the best of them all and deserve its position on this list.
The AmazonBasics Multi-Purpose Pressure Cooker is one that's built for versatility. It has 15 pre-set menu options, which include the following: Steam, Slow Cook, Congee, White Rice, Brown Rice, Vegetables,  Saute, Soup, Beans, Broth, Curry, Multigrain, and Chilli. With this many options, you can rest assured that the cooker will satisfy your needs.
As for capacity, it has a large 5.5-litre capacity to offer a useful size for a wide variety of operations, fulfilling the need for entertaining and everyday cooking for the family. If you hold a party at your place, this electric pressure cooker can work great.
What sets it apart might be the easy-to-use control panel, which also comes with a LED display. With it, you're able to choose many settings, which consist of a 24-hour delay start, an automatic keep warm function, a pressure indicator, and a manual mode. This surely put it in the conversation as the best large pressure cooker UK.
This electric pressure cooker's manual can be quite hard to understand at first, but if you're someone who is used to testing things out directly, then it shouldn't come as a big problem.
Pros
Easy-to-use control panel
5.5-litre large capacity
15 pre-set menu options
LED display
A pressure indicator, manual mode and automatic keep warm
Cons
4 – Crock-Pot Express Pressure Cooker CSC051
The Crock-Pot series of electric pressure cookers are famous for the unique one-pot cooking style, with multi-cook programs allowing you to slow cook, pressure cook, saute and steam. This is something which many with a busy lifestyle yet still prefer a home-cooked meal to others will like.
With the Crock-Pot CSC051 electric pressure cooker, you can program many things to go according to your needs and preferences. For example, it's ideal for the busy person, as they can program the delay cook time to make it so that the cooking process doesn't have to be monitored manually.
This Crock-Pot pressure cooker has a smart body design, featuring an airtight locking lid that stays sealed under pressure for additional safety. There's also a non-stick coating to help prevent food from sticking after usage, making it easier to clean and dishwasher safe.
There's a one-touch digital menu that is simple and easy for newcomers to play around with. This is a fascinating feature that many will like, as we always seek more convenience for our cooking.
This pressure cooker has a problem with durability, however. It can have weaker performance after long-term usage and need more maintenance than others.
Pros
Smart body design
One-pot cooking style
Delay cook time program
One-touch digital menu
Cons
Needs regular maintenance
5 – Instant Pot Duo 7-in-1 Electric Pressure Cooker –

I Highly Recommended
Any electric pressure cooker from Instant Pot guarantees instant quality and reliability. There are many reasons as to why Instant Pot has a large, serious following, and to list them out would take some time. Regardless, this Duo 7-in-1 electric pressure cooker from them is a classic and possibly rivaling the best multi function pressure cooker UK.
Using this Instant Pot Duo cooker, you won't have to fear making unwanted noises or movements. There will be no more rattles, hisses, and no more adjusting heat to regulate pressure; everything that needs to be done, this Instant Pot duo will do it for you.
This is a 7-in-1 multi-functional electric pressure cooker, which means that besides being an electric pressure cooker, it can be used as other things such as a slow cooker, a rice cooker, saute or browning, yoghurt maker, a steamer, and a warmer. This enables you to save up money and the time spent switching between operations.
Comes with this Instant Pot Duo cooker is a large, easy to use control panel featuring 14 built-in programs, dual pressure, automatic keep warm, and three additional temperatures settings for saute and slow cook. There are also a wide variety of safety mechanisms, which while adding protections, also help the cooker be more energy efficient.
Although it can certainly be said to be one of the best rated electric pressure cookers, it's not without its faults. There are problems with the package, as the recipe book is quite limited. The customer service for the product is also questionable.
Pros
7-in-1 multi-functional cooker
No unwanted noises or movements
Large, easy to use control panel with 14 programs
3 temperature settings
Cons
Not great customer service
Not a useful recipe book
6 – Instant Pot Duo EVO Plus
This is another electric pressure cooker from Instant Pot and won't be the last from them. Indeed, it can't be understated how large the influence Instant Pot has on the field. They have many products that would instantly become the best for other brands, and this newest addition from them is no different.
If you want something that takes care of all the hard work associated with cooking, look no further than the Instant Pot Duo Evo Plus electric pressure cooker. It guarantees to be a great buy if you're searching for an electric pressure cooker in the UK market.
The cooker comes with 48 preset functions and many one-touch buttons, which can help you pressure cook many things without any great difficulty. You only need to watch the timing so that your foods are done well.
The construction of this electric pressure cooker is sturdy and trustworthy. It has a new 304 stainless steel inner pot with easy-grip handles and a flat inner surface. This makes it a great device to be used anywhere, increasing portability. In the competition of the best digital pressure cooker UK, it certainly makes its marks.
But nothing is perfect. This electric pressure cooker has a weakness, which is that it's underpowered and can take a while to get up to the needed pressure. The customer service for this product also leaves a lot to be desired.
Pros
48 preset functions with one-touch buttons
304 stainless steel constructions
Easy grip handles
Cons
7 – Tefal CY505E40 All-in-One Electric Pressure Cooker
Tefal CY505E40 All-in-One has long been stated as one of the best electric pressure cookers out there, and there are many justifications for it being so. It doesn't have the popularity of the ones from Instant Pot or the versatility of the Ninja Foodi, but what it does well is that it's excellent in all of its existing features.
This electric pressure cooker will help you whip up pressure-cooked dishes much faster than conventional methods while not sacrificing anything else. It will help you retain all the nutrients and natural flavours even more so that you can have delicious, flavorful meals in mere minutes.
Comes with this Tefal CY505E40 electric pressure cooker is an amazing 25 one-touch program, which can help you in many cooking operations, including slow cooks, steams, browns, and many more. This allows you to prepare a wide variety of dishes using only minimal effort.
There's also a 24-hour delay timer to help you control and choose when the cooking starts. Simply add your ingredients, set the timer, and the cooker will do the rest. Even after finishing cooking, it can even help keep food warm.
An issue with this amazing piece of home appliances is that the hinged lid can be a little faulty. Specifically, it can cause condensation to drip over your surfaces, but this is a fairly small and common issue.
Pros
25 one-touch programs
24-hour delay timer
Good recipe book included
Cons
Bad manual
Hinged lid can drip over
8 – Drew & Cole Pressure King Pro Electric Pressure Cooker
If you're living with others or have a large family, you will surely love this electric pressure cooker from Drew & Cole. It's specifically designed for large families or batch cooking and will help bring everyone together for an enjoyable time cooking and having meals.
The reason for its being touted as one designed for large families is its huge 6-litre capacity. Indeed, this large capacity is perfect for large scale cooking, so if you intend to hold a party, this electric pressure cooker will surely deliver as well.
This cooker can cook faster than 90% of traditional cookwares, saving you hours of time and energy. Additionally, it also helps retain more nutrients and vitamins, which is crucial for a healthy meal that also tastes delicious. This is partly due to its locking lid, which only opens if pressure is released, being a safety function and making cooking more efficient.
There are 14 pre-set programs featured in the cooker, with a 24-hour delay timer, an automatic keep warm, and a fast re-heat. You will feel very comfortable using the cooker, as it offers you many easy ways to operate.
The Drew & Cole Electric Pressure Cooker has a similar weakness to that of the Tefal one: its hinged lid, while being a good idea, can drip water all over when you lift it. So take care to always have a cleaning tool nearby.
Pros
Huge 6-litre capacity
Cooks fast and retains nutrients
14 pre-set programs
24-hour delay timer
Automatic keep warm, fast re-heat
Cons
Hinged lid can drip water to the back
9 – Ninja Foodi Max Multi-Cooker OP500UK –

I Highly Recommended
Ninja Foodi is comfortably one of the best brands out there in terms of electric pressure cookers, so it can be easy to see why there are two of them on the list. Suffice to say, many cookers deliver what's needed, but Ninja Foodi goes even further and sets the limit for how electric pressure cookers can be.
This Ninja Foodi Max electric pressure cooker OP500UK has a family-size capacity suitable for cooking for the whole family. There are many things that this cooker can churn out, including delicious one-pot meals, sides, desserts, homemade yoghurt, dried food, or even a whole roast chicken.
This cooker uses the TenderCrisp technology to help pressure cooking quick, tender, and juicy meat much faster than using traditional cooking methods. There are other additional settings such as Air Crisp, Bake/Roast, or Grill settings to give your food a crispy, beautiful golden finish.
There is a 2-tier reversible rack to help you cook both mains and sides at the same time. Coupled with the large capacity, this feature will help you make the cooking process extremely efficient to feed the whole family.
Unfortunately, although this is one of the best large pressure cookers UK, it has a distinct weakness, which is that its slow cooking is quite flawed. It is very slow and can have an even weaker performance than ovens in this regard.
Pros
Double rack provided
TenderCrisp technology
Family-size capacity
Cons
Relatively slow cooking function
10 – Instant Pot Duo Crisp + Air Fryer 8L Multicooker
We place another electric pressure cooker from Instant Pot as the last one on the list so as to put the final mark on the large influence that Instant Pot has on the field. This is another model from the all-time bestselling Duo series from the brand, which is guaranteed to be a classic.
This Instant Pot Duo Crisp is designed for optimal frying. It is both a pressure cooker and an air fryer, with two convenient, removable lids for smooth and easy operation.
It has an 11-in-1 one-touch cooking program, allowing you to cook a wide variety of foods and have delicious results while you need only to sit back and relax. The program covers many cooking types, including air fries, roasts, bakes, broil, pressure cooks, steams, slow cooks, saute, sous vides, warms, and dehydrates.
Comes with the product is its innovative EvenCrisp technology that ensures a perfect crunch anytime and anywhere. It will help turn your uncooked foods into juicy meals with a crisp golden finish that is attractive and salivating.
It's also featured with many safety functions, including air fryer accessories such as a multi-level air fryer basket with a dehydrating and broiling tray. There's also a protective pad for optimal storage and countertop usage.
Although there are many things to like about Instant Pot Duo Crisp, it's not without its faults. The durability of the electric pressure cooker can be not up to par and certainly others do better in this aspect.
Pros
11-in-1 one-touch cooking program
Designed as both a pressure cooker and an air fryer
2 convenient, removable lids
Innovative EvenCrisp technology
Cons
And that concludes our reviews of the ten we considered as top 10 electric pressure cookers UK. There will be many things to like from the above list of products, for sure. But in order to help you out more in deciding which of them is the most suitable for you, we will proceed to answer some additional, common questions surrounding the products.
FAQs
Do electric pressure cookers use a lot of electricity?
Actually, using an electric pressure cooker can cut your energy use down efficiently. They are insulated so it helps prevent energy from being lost during cooking time and they have pretty fast cooking time compared with non-electrically heated cookers.
How does a pressure cooker work?
A pressure cooker works on a simple principle: Steam pressure. It is a sealed pot with a lot of steam inside, which builds up high pressure, thus making cooking faster.
How to use an electric pressure cooker?
You simply add food and liquid into the pressure cooker. Close the lid and place the valve to the correct setting. Next, choose a cooking program and time, watch it start to display counts-down cooking time. Finally, release pressure.
Can you overcook pork in a pressure cooker?
Unfortunately, yes! Because a pressure cooker can cook things in less time so it is important to read the time chart for certain kinds of food that goes along with your electric pressure cooker.
Do electric pressure cookers make noise?
The pressure cooker is supposed to stay silent during cooking and only make a faint hissing while its steam is slowly escaping. If your pressure cooker makes noise, you may check whether you seal it properly or fully or the pressure is too high inside the cooker.
How to clean an electric pressure cooker?
Unplug your pressure cooker then remove the lid and interior pot. You can start cleaning the exterior by wiping with a damp cloth. Hand wash the lid, sealing ring, inner pot and steam rack then leave them to air dry. Reassemble when all your parts are completely dry.
Can electric pressure cookers be used for canning?
Unfortunately, the electric pressure cooker is not designed for that type of appliance, you can instead use the canner for safety.
Conclusion
There are many things to like about the list of the best electric pressure cookers UK that we've provided. Generally, they're considered among the very best in the market, due to their versatility, durable constructions and excellent functionality.
Among them, we like the IPDuo-30 Duo Mini electric pressure cooker from Instant Pot the most, due to its generous capacity which is apt for cooking for a lot of people, its great power to help building up pressure quickly, as well as the 3 slow cook settings. In terms of versatility and utility, it delivers splendidly.
But others can be just as great as well, and there aren't really wrong choices here. We hope that with our electric pressure cooker reviews UK, we've helped you decide on the best product for you, one that suits your needs and preferences.