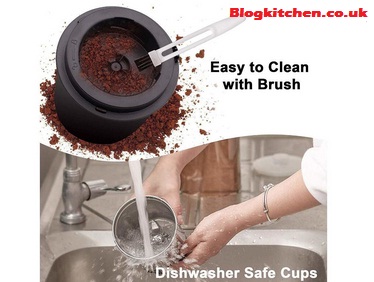 Are you looking for a guide that shows you how to clean an electric coffee grinder? Then, you are lucky as we will show you three ways to clean your device.
The fragrant beans leave behind an oily residue that, over time, goes stale or turns rancid. Therefore, it will affect the flavour of the coffee in the long run, causing you to clean your grinder from time to time.
If you have never cleaned your coffee grinder before, you should give it a try by following our instructions. They are easy-peasy to perform, and we make sure that you will be pleasantly surprised at how freshly your coffee tastes after the grinder has been thoroughly cleaned.
How To Clean An Electric Coffee Grinder?
1 – Cleaning With Grindz
Grindz is a specially designed cleaner for coffee grinders. It consists of grains, cereals and can quickly and effectively remove stale coffee residuals.
Here is the necessary tool:
A packet of Grindz (35 grams)
40 grams of old coffee
Step 1: Remove any coffee powder which could be left inside the hopper, and make sure that the grinder is empty and clean.
Step 2: Next, open the packet and pour 35 grams of Grindz into the empty hopper.
Step 3: Plug your machine and begin grinding until the seeds are discarded. The process can take a few minutes.
Step 4: In order to eliminate the residue, add 40 grams of old coffee into the hopper and grind it. This will help you to remove any Grindz that got stuck in the corners of your machine.
2 – Cleaning With Compressed Air
To clean an electric coffee grinder by using compressed air, you need to prepare a few important tools as follows:
1 can of compressed air
1 vacuum cleaner with tube
1 brush
2 drying towels
Step 1: Unplug the grinder, then detach the hopper out of the device and clean it carefully while ensuring that there is no coffee powder left inside anymore.
Step 2: Use a drying towel to clean the hopper and protect your device at the same time. On the other hand, if you use a wet towel to remove it, then moisture will negatively affect the grinder's function. Consequently, coffee powder will stick to the burrs, destroying your machine.
Step 3: Now is the time to use the compressed air and a brush to clean your coffee grinder. A strong push of air will be blown into the burrs and grind chute, removing all the coffee beans. To avoid the powder from spraying into the air, you should use a dry towel to cover the top of your hopper.
Step 4: If you have a vacuum with a tube, you can use it to clean any residual coffee in the corner of the grinder.
Step 5: Insert the hopper back into your device.
 3 – Cleaning With Rice And a Toothbrush
To clean your coffee grinder by using rice, prepare the followings, and go ahead with these steps:
¼ cup of uncooked rice
A toothbrush or paintbrush
Paper towels
Vinegar
Step1: Pour the ¼ cup of uncooked rice into the grinder. Make sure that all blades are covered and use more rice if it is not enough.
Step 2: Start grinding as if you had coffee beans inside and continue until the rice has become a fine powder.
Step 3: Throw out the rice and clean any excess powder with a toothbrush or paintbrush 
Step 4: In case the device is not clean enough yet, you can use a paper towel soaked in vinegar and wipe it again. Let the grinder dry for a couple of hours before using it again.
Conclusion
Now you have known how to clean an electric coffee grinder. Therefore, you can choose the method that best suits you and your grinder.
I often clean my coffee grinder with rice because it is a very convenient method as I always have some rice at home.
Which way worked out the best for you? I am excited to hear about that. Go ahead and try out all these methods and enjoy a wonderful, freshly tasting coffee afterwards. Good luck!