As an Amazon Associate, I earn from qualifying purchases.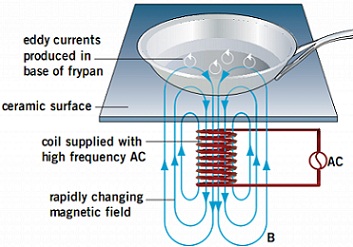 Induction hobs are essential parts of every household. They're favoured for their great features and safety in the kitchen, and they're easy to use as well! But how do induction hobs work? Let's learn about the mechanics behind this wonderful appliance and how to keep it running for long!
How Do Induction Hobs Work?
What Makes An Induction Hob?
When mentioning an induction hob, it is a fascinating device that can save you a great load of fuel in your home and health risks in your family.
Before we get into dissecting what lies inside an induction hob and acquire an answer to "how do induction hobs work?" there's something called an "eddy current" that you should know about.
An eddy current is born in a conductor or any places where the magnetic field is constantly fluctuating from positive to negative. Only in metallic looping wires will you ever find this kind of current, so if you ever look at a conductor or an induction hob in this case, you'll spot such parts.
Although it may sound unfamiliar to you, you've encountered the use of eddy currents in electric brakes, speed meters in heavy-duty vehicles or even energy meters!
The use of eddy currents in induction hobs is dependent on its ability to heat up metal things without coming in direct contact with them. And because electricity has to pass through the cooking equipment to work (as the name implies), you should use ferrous tools and containers for an induction hob to work properly.
How Does An Induction Hob Work?
In an induction hob's internal system is a coil of copper wire that's very similar to those in conductors. The coil creates an oscillating magnetic field and then a magnetic flux to form an eddy current, as we've discussed before. Combining this current with a pot or pan of a ferrous nature will force the pan to rise in temperature.
Induction hobs are preferred in the kitchen for their power efficiency and environmentally friendly nature. Induction hobs deliver 84% of the fuel given to it, which is 10% more than your usual petrol hobs. They also do not introduce fire, smoke and other damaging elements to your surroundings.
A quick side note before you use the hob: if you or your loved ones have a pacemaker, we advise against using an induction hob. Strong electromagnetic fields can mess with a pacemaker's functions, so the British Heart Foundation (BHF) warns those with such devices in their bodies to stay at least 2ft away from induction hobs.
Which Pan Can We Utilize on an Induction Hob?
It's important to know the type of pans that will be a good fit for your hob. Aside from knowing "how do induction hobs work?", you must also know what pans work with the hob as well.
Generally, you might want to look for flat-bottomed equipment. This is to ensure that the tool gains full contact with the hob's surface and receives the most heat from the eddy current.
Despite the equipment being made out of conductive metal, being out of the electromagnetic field's reach can definitely affect the heating process of your food.
You should also look into the material of your pans and pots. However, this is not completely compulsory since induction hobs are pretty flexible and allow nearly all metallic things to benefit from them.
The weight of the pans should not be a concern, as the glass atop the hob is not so susceptible to cracking or shattering. You should be careful not to slide the pans on the hob to prevent it from scratching, though.
Outro
Now that you have the answer to "how do induction hobs work?" perhaps you can now find yourself a suitable one for your workspace and bring delicious meals to your family.
And if you are to have any concerns about these amazing home appliances, you can always circle back to this article!