As an Amazon Associate, I earn from qualifying purchases.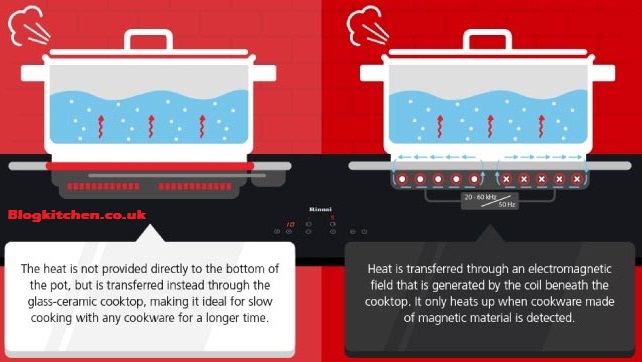 Needless to say, it always takes a lot of time to think when having to replace the hobs in your kitchen. A great number of questions arise at the same time. What's the difference between induction and ceramic hobs? Which type of cooker is better for you? Don't worry, this article below will show you the answer. Keep scrolling through it to find out which hob is more suitable for your kitchen.
What's The Difference Between Induction And Ceramic Hobs?
We would like to give you the differences between these products based on their main features as below.
What is a Ceramic Hob?
When it comes to a ceramic hob, we often picture the electric hobs with a ceramic glass surface. Anyway, to know whether this type of hob is suitable for your kitchen or not, here is some information you need to know.
Price
Normally, ceramic hobs can be sold at a reasonable price, and the quality, of course, should also not be underestimated. According to top chefs and restaurateurs, ceramic hobs can heat up quickly, which is far better than many other cookers.
Heating Efficiency
Despite the good price and quick heat ability, ceramic hobs have a huge drawback in controlling temperature: the cooks must wait for a while before it could cool down. This means that you need to take the pot off the ring when swimming your food.
When the whole ring gets heated and takes time to cool down, much residual heat could escape. In other words, this way has significantly lost the efficiency of your cooker.
Cleaning
No harsh cleaning is needed here. After the hob has cooled down, a simple wipe could sparkle the hob again. Still, you will have to spend more time cleaning the grease. Sometimes, if food debris stays too long on the surface, this situation is a bit hard to remove.
Safety
Normally, a ceramic hob will have heat indicators that show you whether the cooker is warm or not. Still, pay attention to your kids to avoid unexpected situations because they might burn themselves due to the extremely hot surface.
How It Works
When you turn on the hob, the heating elements under the glass top will heat the surface of the ring, and the heat will directly go to the cookware. Thus, the whole hob ring will get heated.
As mentioned before, the whole hob ring is still hot after you turn it off. Normally, it takes the hob several minutes to cool down totally. So, watch this out not to burn your hand while cooking!
A Quick Rundown Of Ceramic Hobs
Pros
Reasonable price
Easy cleaning
Quick heating up
Cons
Bad heating distribution
Low efficiency
High running cost
Being dangerous to children
What Is An Induction Hob
Recently, many professional cooks tend to use induction hobs as their outstanding features compared to ceramic ones.
New version of the induction hob
Producers have released the zoneless version of induction hobs. As you could put the pan anywhere you want, you will have more space while preparing the food.
Price
Unlike the ceramic hob, the induction one is a bit higher in price. Also, when applying this hob for your kitchen, most people need the help of the mechanic, which costs them some extra fee.
However, in exchange, the induction hob costs less electricity fee than the ceramic hob. Thus, in the long run, the induction hob seems way cheaper to use.
Heating efficiency
The induction electric hobs have a greater ability in controlling the temperature than ceramic ones. Heating is no longer a matter of concern as only the pan will get heated, and the surface remains cool all the time. Therefore, in case of some unexpected situations, you will never have to worry about burning your food or getting your hand burnt.
Cleaning
Like the ceramic hob, cleaning the induction cooker is like a piece of cake. Just with some easy steps, you could remove all the specks of dirt easily. In case of spilling anything on the cooker, wipe them right away, and you can continue cooking.
Safety
In comparison with the ceramic hob, induction is much safer to use. The indicators would notice whether you should not touch. Also, the cool surface when cooking helps you stand less risk of getting burned.
How it works
When the cooker is turned on, electricity will run through the copper coils under the glass surface, which makes a magnetic field. While cooking, the automatic oils will lower the temperature of the coils. As a result, there would be less risk of having incidents at cooking.
Unfortunately, a huge drawback you should take into consideration is that not all pans work well with induction hobs. There are some materials like ferrous metals that you could not use in this cook. In contrast, for those like aluminium and ceramic pans, you need to build an induction plate at the bottom to connect with the cook.
A Quick Rundown Of The Induction Hobs
Pros
High respond
Quick cooling down
Energy saving
Lower running cost
Easy cleaning
Having zoneless products
Cons
High price
Hard installation
Being restricted to some pots and pans
Conclusion
Now we bet that you have found the answer to the question: What's the difference between induction and ceramic hobs? Consider which one is more suitable for you in terms of all criteria above and get a new cooker for your kitchen. Good luck with your choice and enjoy your cooking