As an Amazon Associate, I earn from qualifying purchases.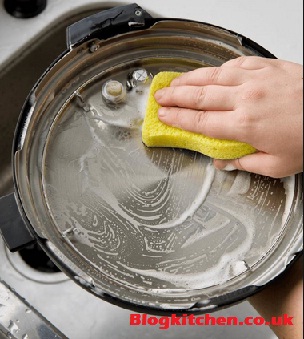 It cannot be denied that many home cooks own the electric pressure cooker in the kitchen because of its incredible magic to serve well. But the matter is that not everyone knows how to clean electric pressure cooker properly.
For this reason, we have provided you guys with a thorough guide below. Let's jump right into it immediately.
How To Clean Electric Pressure Cooker?
Common Way To Clean Your Electric Pressure Cooker
What To Prepare
If your electric pressure cooker is not too dirty, you can refer to this common way of cleaning.
What you need to prepare includes warm water, mild dishwashing liquid, microfiber cloths and sponge, a toothbrush, or a small scrub brush. On top of that, it will be best if you have distilled white vinegar in a spray bottle.
Unplug Your Electric Pressure Cooker
The first step you always have to do while cleaning electric household goods is to unplug this device. Of course, it ensures your safety as we bet that no one wants to get an electric shock in this case.
Besides, let's remove any inserts of your machine to do the cleaning, even the inner pot.
Clean The Outside Of The Cooker
Now you can take a brush to clean the outside of the cooker. You have to remove any dried bits of food stuck in outside nooks and crannies. Be patient, because some pieces are quite stubborn.
Next, it's time that you can dip a clean microfiber cloth into vinegar and spritz it lightly to wipe down the outer housing of your pressure cooker. White vinegar is highly praised for its miracle effect in cleaning and gains trust from a lot of homemakers. And in this situation, it can make your machine extremely clean.
After that, use a dry microfiber cloth to buff out any streaks left.
Hand Wash The Pressure Cooker's Inner Pot And Lid
The next step is to pour a few drops of dish soap into a kitchen sink that is full of warm water and stir the mixture well until you get the soapy water.
Then, you have to hand wash all the inserts and inner pot that you have taken out from the electric pressure cooker. Also, you can seek the help of a microfiber cloth or sponge.
Do not forget to clean the product's lid as similar to the above manner.
Dry Your Product
Last but not least, you must dry all the parts of the cooker before putting them back as before to avoid damaging your device.
Deep Clean For Your Electric Pressure Cooker
What To Prepare
You need to clean your electric pressure cooker deep occasionally to make sure that it is safe enough to cook. Similar to the previous method, you should have warm water, dish soap, and even distilled white vinegar. Besides, a shallow pan and an onion will be necessary in this case.
After that, let's fill the kitchen sink with warm water and pour a few drops of mild dishwashing liquid into it. Then, stir it to create a nice and foamy cleaning solution. Now, you can move to the main parts.
Separate And Clean All The Different Parts
You must separate all the removable parts of your electric pressure cooker in this step. Carefully remove the float valve, the sealing ring, the anti-block shield, the lid, the gasket, the rubber, and more. It will be best if you wash each thing separately by hand in the soapy water.
For such a special appliance as the sealing ring, you should put them into a shallow pan of distilled white vinegar. After about five minutes, take it out and wash in the soapy cleaning solution as other parts.
It is a must to let these things dry completely before you replace it again and ensure that they fit snugly in your cooker.
Deal With Any Stubborn Food Residue
When it comes to handling hard food residue inside the cooker, you can consider this way. First, let's add some water and dish soap to the machine. Then, you turn the gas on with a low flame. Rest assured that these dried-out particles will come out quickly afterwards.
Clean A Burnt Pressure Cooker
What if you have a burnt pressure cooker? Well, do not worry as the combination of water and an onion will do the trick. Let's add water to half of your machine and a few layers of onion.
You have to spend about fifteen to twenty minutes keeping the cooker on the flame without putting the lid on. After that, it is much easier to clean it as usual.
Conclusion
We have made our effort to give you some useful information about cleaning a special kitchen tool. And now you can know how to clean electric pressure cooker and do it confidently, right?
If you find it helpful, do not hesitate to share it with your family and friends. We will be thankful very much!