As an Amazon Associate, I earn from qualifying purchases.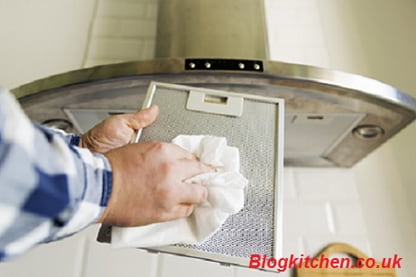 Cooker hoods keep your kitchen free from grease and grime created while cooking. However, this device will become clogged up with such grease at some point if not cleaned properly. The longer you put off the maintenance, the less effective the filter.
So, how to clean cooker hood filter? Today's article shows you the easy-peasy methods to clean your cooker with available household items. Read on!
How To Clean Cooker Hood Filter?
Things You'll Need
Before we start our guide on how to clean cooker hood filter, there are a few things you need to prepare.
Hot water
Dish soap
Baking soda
Old cloths
A non-abrasive brush
Instructions
To clean your extractor fan filter, check out the steps below.
Step 1: Remove the filters from the hood. You should have no problem doing this, as these racks are designed to pop out (or slide out) quite easily.
Step 2: Fill up a bucket with some hot water and add a few drops of dish soaps and some baking soda. Make sure everything blends together nicely by using a brush. Bear in mind that the water will be hot, so wear gloves and be careful not to burn yourself.
Step 3: Put the racks into the water and let them sit for about 15 minutes. The hot water must cover the racks entirely, so the grease comes off.
Step 4: This step is when you need to put in some work. Since the water has cooled down by now, you can scrub the racks directly with the prepared non-abrasive brush. For stubborn spots, more dish soap may be needed.
Step 5: Once the racks are thoroughly washed, rinse them in warm water, then use the old clothes to dry them.
Step 6: Place the filters back into the hood and voilà, good as new! Check out this instruction video for better insight.
That's how to clean a metal mesh cooker hood filter made of aluminium or carbon-carbon.
If you happen to have paper filters, you can replace them. Most paper ones are designed to be replaced or cleaned. They usually come in big batches, at low prices, and can be easily found at any supermarket.
Why You Need To Clean Cooker Hood Filter?
The benefits of cleaning extractor fan filters are immense; here are a few reasons you should and most definitely need to wash your filters.
Better power efficiency
Extended life span of the blower
Efficient grease and dirt dismissal
Safety
Besides the beneficial factors, not cleaning your filters poses fire hazards as uncontrolled flames can rise and ignite residues stuck on the racks. Your health will also be affected due to the pathogens that thrive in that greasy, slimy and warm hood.
Clogged racks don't let the grime escape. Instead, it is likely to vent back to your kitchen. You'll feel like the kitchen is always so greasy even though you don't neglect the cleaning. Aren't these reasons enough for you to wash your racks now?
How to Keep Your Cooker Hood Filter Clean?
Besides the deep cleaning method mentioned, there are a few other things you can do to keep the fan filters clean.
Use paper towels or cloths to wipe off the grease after each time you cook. Make sure the extractor hood has fully cooled down before cleaning.
Place the filters on the top rack of your dishwasher and let the machine do the rest.
Simply rinse the racks in your sink with some warm water, then use an old toothbrush to scrub.
How Long Do Cooker Hood Filters Last?
There is no solid answer to this question. The lifespan of your cooker fan filters varies depending on how often you use and wash the appliance.
If used intensively and properly cleaned, aluminium or carbon filters should easily last six months or more until the next replacement. Some models even come with an indicator to tell you when the filters need to be replaced. Ideally, you'd want to follow the rule of thumb to replace the filters after 6-8 months.
This period falls to only 1-2 months for paper filters, or you can trust your senses and replace them whenever you feel like they've built up enough substances.
Conclusion
That pretty much wraps up our tips on how to clean cooker hood filter. Without proper maintenance, it won't last. So folks, remember to carry out regular maintenance along with deep cleans to help your appliance last.
One important thing to remember is to always let the filters fully dry before popping them back into the hood, or they'll start rusting very soon. Now, keep up the cleaning spree and head up for the upcoming articles!