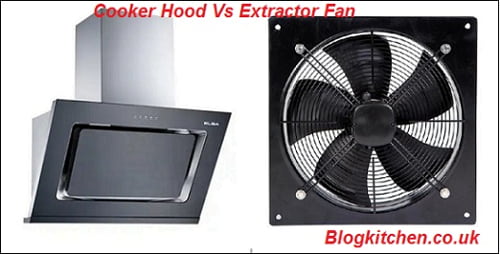 If you want your kitchen to be perfectly neat and tidy after cooking "smelly" dishes such as roasted or fried foods, etc., buying a suction device is of importance. However, many models make buyers have a headache selecting, especially when they have no idea what are the differences between a cooker hood vs extractor fan.
There will be similarities between them in removing smelly odours, grease, and moisture. Nevertheless, they still have typical differences that purchasers need to keep in mind to choose a piece of appropriate equipment for your corner.
What Is A Cooker Hood?
A cooker hood is an extractor device mounted above your hob to help remove airborne grease, steam, and smoke by evaporating and filtering them. The kitchen hood varies in size and mounting types, and depending on your setup and aesthetic taste, you might have multiple options to choose your best fit.
What Is An Extractor Fan?
A kitchen extractor fan is a piece of electrical equipment that directly exhausts smelly particles from the kitchen to the outdoors. This kit completely differs from the range device when it is wall-mounted and expels the fumes to the outside through the wall.
Cooker Hood Vs Extractor Fan: How To Distinct
Aesthetic Look
On the market, exhaust hoods come in various styles depending on the layout of your kitchen. A chimney one will satisfy you if you love the traditional look.
If your space is small and you desire a modest model without the need to place it over the top, the built-in or venting hob will fit your desire.
On the other hand, an extractor fan has a simpler and more compact appearance with a ceiling fan-like design and is mounted on the wall to suck the air to the outside. You can easily see its blades, which is rare for kitchen hoods.
Overall, in terms of aesthetic look, the cooker hood is dominant, bringing a more luxurious and elegant style to your space than its counterpart.
Functionality
The cooker hood vs exhaust fan differences also appear in terms of functionality.
In addition to filtering common cooking smells and fumes, hoods can also expel grease particles with suction motors and filters. Meanwhile, an extraction fan only solves air problems (bad odours and smoke).
Moreover, the quiet setting feature of this device often outperforms its counterpart, and of course, if you are a person who cannot stand noise, the hood is always a more reasonable choice.
Not only that, these modern models usually have other additional functions like auto-timer and smart features, making cooking easier than ever.
Electricity Consumption
Average common hood models will consume from 65 watts to 300 watts. Compared with the range one, a residential exhaust fan may have a consumption power between 40 to 90 watts and up to 120 watts for commercial use.
For this very reason, in most commercial kitchens where cooking is done with high frequency, an extraction fan is more likely to be preferred for its low energy consumption.
Average Price
In the battle of pricing, extraction fans are sure to win. The average total installation cost for a new device can range from $330 to $460.
In contrast, a range piece may cost you about $400 to $1500, including installation cost. That is because an exhaust hood with many complicated functions will cost more to assemble.
Quick Rundowns Of The Cooker Hood
Pros
Suck all vapour and particles to ensure a perfect, spotless kitchen
Help reduce cleaning efforts
Add more aesthetic value to your kitchen
Cons
Consume more energy
More expensive
Quick Rundowns Of The Extractor Fan
Pros
Easy to install
Less energy consumption
Low budget
Cons
Only expel odours from the air
A quite simple look for aesthetic purpose
Comparatively louder sound
Final Thoughts
The cooker hood vs extractor fan will have different uses depending on your need. If you don't bother with aesthetics and noise but want a cost-saving device for your commercial purpose, then an exhaust one would probably meet your demand.
On the other hand, a range piece is the best option if you have enough budget to own a far more luxurious and multifunctional pick that optimises your kitchen use and minimises cleaning efforts.