As an Amazon Associate, I earn from qualifying purchases.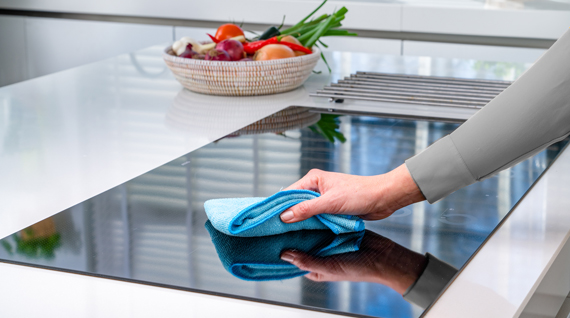 Induction hobs are becoming an increasingly favoured choice for homeowners, as their stylish and sleek outlook fits perfectly with different kitchen designs. Moreover, with the induction hob's slick surface, the maintaining process will be easier for you.
Cleaning an induction hob, on the other hand, requires a careful and proper strategy. Otherwise, the surface can have scratches and damages that will make the food stick firmly to your over. Hence, if you are a newbie and switch to cooking with an induction hob, you need to learn "How to clean induction hob burnt" properly.
Let's started!
Which Tools Do You Need For Cleaning Induction Hob?
The best way to keep your induction hob work perfectly and clean is to remove all the spills as soon as possible. Now we will tell you some of the necessary accessories to help you maintain the cooktop more easily.
Firstly, you can think about the protector liners as they allow you to quickly remove and wash away splashes and food. You only need to clean or change the protector after cooking to maintain its quality.
If you use various products to preserve the new look of your cooktop, check the oven manufacturers' instructions. Even though there are many popular ceramic cleaner and glass cleaner brands for ovens, some of them can destroy your oven.
Please be mindful not to use any caustic or abrasive cleaners for your induction hob, and do not try to fix the discolourations on the oven with gritty-particle cleaner or bleach. Furthermore, here are some of the other materials you cannot use when removing burnt food:
Flammable tools
Dishwashing products with abrasive elements
Metal scraper or scrubbing pads
Stain scrappers
How To Clean Induction Hob Burnt? – Best Tips
As we mentioned above, cleaning the induction hob each time you cook is the easiest way to keep it pristine. There is no need to use any special accessories or expensive hob cleaners. Specifically, a damp microfibre or soft cloth and warm soapy water will quickly finish the job for you.
For more careful preparation, check the cloth to make sure there is no grit on it. Additionally, spare some minutes to let the surface cool down, and take all the saucepans and pots away before cleaning the induction hob.
How To Remove Burnt-on, Melted, or Stubborn Stains on Your Induction Hob?
If you don't clean the oven surface right after cooking, your induction hob will repeatedly burn and melt food products. As a result, the stains will be very hard to remove. It would be a brilliant idea to turn off your oven immediately when you saw any things that might be stubborn over time. Here are a few tips for you:
A small amount of vinegar can help, or you can carefully use your fingernails to remove the stains instead of using a soft cloth.
Besides, baking soda and vinegar would be perfect choices for burnt-on food. Pour a moderate vinegar amount on the stains and let it sit for a few minutes, then sprinkle baking soda on the dirty spots and spray a thin layer of water over the top.
You will finish the cleaning with a paper towel and leave it for about 30 to 60 minutes. Finally, use a soft cloth to lightly wipe the mixture to avoid causing scratches.
You might need to use a sharp scraper to avoid causing scratches or damage in some special situations. Specifically,  hold the scraper or razor at an about-45-degree angle and gently push against the burnt with small and slow movements. Clean the surface again with a soft, damp cloth and let it dry before using again.
Are There Any Extra Tips For Better Induction Hob Protection?
To effectively protect an induction hob, it is about cleaning after using and how you use the cooktop. Here are extra tips and advice for better maintenance:
You have to lift the pans if you want to remove them. If you drag the items, it will leave many scratches on the top. Remember to take all the hot lids away from the hob's ceramic or glass as they can crack the surface.
Do not put grimy or dirty pans directly on the cooktop. Instead, use the protection pads or clean the pans thoroughly.
Another mistake is that many people use the surface to prepare before cooking and accidentally drop food there. This habit is very harmful to your cooktop as you can heat and burn stray food many times.
It would be best to consider using gentle cleaning solutions, such as soap, damp clothes, and white vinegar. Please note that baking soda is overly caustic in some cases. The best way is to check the suitable substance list from the manufacturer for effective stain removal.
Conclusion
The induction hob is one of the most incredible appliances in the kitchen. Therefore, you should pay more attention and maintain its best conditions to make your investment worthwhile. As we explained, the principal task is to prevent substances from building up on the surface and clean the spill as quickly as possible.
Do you have any ideas to help people learn more about "How to clean induction hob burnt at home?" Please share your tips with us in the section below.