As an Amazon Associate, I earn from qualifying purchases.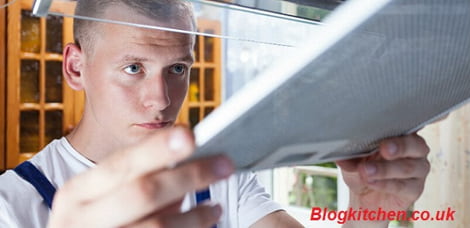 Cooker hood filters are beneficial for your kitchen to eliminate all the particles and debris emitted when cooking. But the chances are, you'll notice the cooking smells haven't gone. It's time to replace the filter.
How to replace cooker hood filter can be a matter for those who have never done it before. But regular maintenance can keep your place cleaner and brighter and extend the cooker extractor fan's lifetime.
This replacement is easy as a piece of cake as long as you follow instructions. Indeed, it can be done in a few minutes. Let's get right into the detailed guide below!
How To Replace Cooker Hood Filter?
Preparation – Things You Will Need
First thing first, you need to prepare these things:
New types of paper or carbon filter compatible with your hood model or cooker type
Screwdriver
Cleaning products: warm soapy water and rubber gloves
A craft knife or sharp blade
Safety Alert
Before you start the replacement, please make sure your extraction hood is disconnected from the electricity source.
Step 1: Pop The Hood
Some fume extractors may not open easily. Here is when your screwdriver does its job and unscrews any screws that prevent you from accessing the filters.
It's also necessary to put on rubber gloves so that your hands will not end up grubby and greasy.
Step 2: Remove The Old Filter
This stage is when you unclip the metal grill holding the old trap in place and remove it with the lifting motion.
Step 3: Inspect The Right Filter To Fit
Suppose the new type you've got is a universal one. In this case, you can use the old trap as a template to cut it into the proper size with a craft knife or sharp blade.
The grease traps carry saturation and indicator lines which change colour when they're ready to be replaced. If you see the signs, proceed to the final step.
Step 4: Replacement Time
A kit might consist of grease paper and carbon traps to enhance the filter's performance.
You now replace the kit in your fume extraction, but ensure that it is positioned above the grease trap, securely in place.
Then, clip the metal grill back and double check that it is firmly screwed.
When Should You Replace The Cooker Hood Filter?
How often you should change your recirculation filter will depend on your frequency of use. But normally it should be replaced after 4 to 6 months. Depending on the manufacturer, you might ask for a new carbon wood filter.
In case you keep your grease or charcoal types cleaned every 4 to 8 weeks, you have no worries about replacing them as long as they aren't broken.
When you want to make sure your fume extractor functions effectively but are not into cleaning things up regularly, the minimum maintenance should occur at least once a year.
Or if you are not sure about the replacement time, please refer to these signs:
The cooking smells keep lingering in your kitchen.
The smoke still stays there even when you've turned the hood for some minutes.
You find grease sticking on your kitchen walls and ceilings.
It's best to keep track of debris in your cooker extractor and clean up often to reduce replacing frequency and keep your kitchen polished.
When checking your hood, pay close attention to the warping, dents, corrosion, food debris, or any trace of damage.
Conclusion
If your cooker hood is overwhelmed and ceases to do its job properly, changing it is needed.
How to replace cooker hood filter is as simple as we show you above. As easy as it may seem, you should be alert and remember our safety advice before starting the replacement.
You need to replace a new one from 4 to 6 months after use. If you are disciplined with cleaning your extraction hoods regularly, you may never change them.