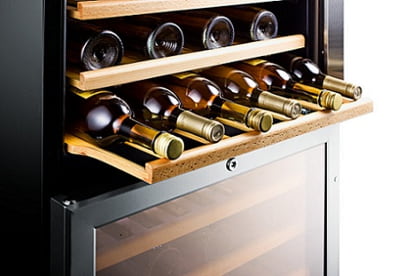 Wine fridges are a great way to keep your wine at the perfect temperature. A good fridge will have adjustable shelves, an interior light, and a digital thermostat set to any desired temperature.
If you're not sure about "how does a wine fridge work", consider this post today to find out which one suits you best!
Why Should You Need a Wine Fridge?
A wine fridge is a smart investment for your house, as it can keep up to a year's worth of beverages. A low-humidity atmosphere of less than 50% maintains the temperature steady and prevents the wine from spoiling at an accelerated rate, so you don't have to worry about that anymore!
A wine fridge is an excellent addition to any household. It not only keeps your favourite bottles of vino at the perfect temperature, but you also won't have to worry about the temperature changing every time you open and close it as with a conventional refrigerator!
From delicate burgundy reds to crisp white wines, each with its own designated room, a wine cooler will be a perfect storage location to retain the original scent.
How Does A Wine Fridge Work?
When you're looking for the perfect wine fridge, there are two main types to choose from: compressors and electric ones. A compressor-based unit functions similarly to your standard fridge, while an electric one operates more like a thermostat system.
Compression Cooling
A compression cooler is a fridge that cools its coils using a specific refrigerant.
This system will have a compressor used to compress the refrigerant to high pressure and high temperature; at this point, the refrigerant is in a gaseous state.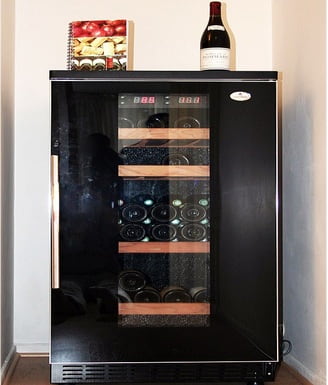 The refrigerant is pushed to the outside unit after passing through the compressor, where it is cooled by the air and condenses into a high-pressure and low-temperature liquid. The process of giving off heat to condense occurs here, and this refrigerant then flows into the refrigerator through the heat transfer coils within the refrigerator.
The liquid refrigerant collects heat from the surrounding air and heats as it travels through the coils. The greater the contact surface, the greater the amount of heat released. That's why you can feel the heat when you touch the cabinet's side.
When this procedure is completed, the chemical flow returns to the compressor, restarting the cycle.
Thermoelectric Cooling
The Peltier Effect is a very interesting and useful way to move heat from one side of an object through another – this causes cooling on 1 side while heating takes place elsewhere.
The inside of your wine cooler is initially warmer than the outside— (room temperature). When a thermoelectric cooling device that functions as an air conditioner is switched on, the situation is reversed; the cooler's interior will be colder than the exterior.
This is made possible by the unique design, which has the heated side facing out, dispersing heat to the outside, and cooling the wine cabinet.
What Are The Factors That Affect Your Wine Storage In A Wine Fridge?
Here are some factors to consider when selecting a wine storage solution:
Cooler temperatures are vital for various reasons, the most significant of which is that they aid in infection prevention. However, it shouldn't be too chilly! A suitable temperature range would be 45°F to 65°F, with 55°F being regarded as ideal.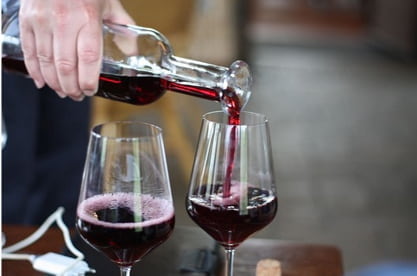 Wine is an amazing drink that anybody may enjoy, but many people are unaware of the necessity of keeping a consistent temperature for best results. A quick temperature shift will cause your wine to expand or compress!
Prolonged exposure might also result in oxidative processes that induce deterioration at considerably quicker rates than before! So, what's the best option? LEDs appear to be safe against these risks without compromising flavour.
Maintaining an ideal humidity level is important for the preservation of wine. It would be best to keep it between 50-80%
Conclusion 
How does a wine fridge work? The science behind storing wine in a refrigerator is pretty straightforward; they will keep the temperature and humidity at ideal levels. Keep in mind that the goal of your wine storage system should be to keep wines at their ideal temperature for as long as possible!
We hope you now understand a bit more about this operating system. Thank you for reading!