As an Amazon Associate, I earn from qualifying purchases.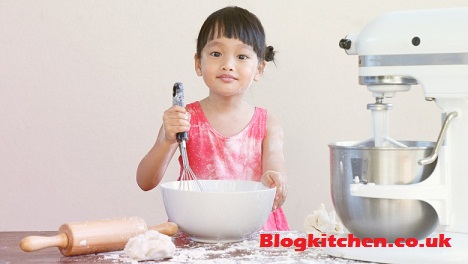 Don't we all always have room for desserts? Hmm, the buttery, tender classic British Victoria Sandwich Sponge Cake, the tangy lemon drizzle cake, or some good old fashioned chewy ginger snaps on the side of your afternoon tea. We apologise if we make your mouth water just by listing them here.
Let's roll up our sleeves and start making at least one of those delectable treats! But don't get carried away just yet! We first need a hand mixer, one of the most handy tools in the kitchen, especially for baking. Then we shall learn how to use a mixer for baking.
This article will equip you with information on mixer safety, basic know-how, and step-by-step instruction on using and cleaning your mixer.
Mixer Safety
Just like any other appliances in your kitchen, the hand mixer is convenient and essential, yet it might pose risks to you and the little ones in your family when used improperly. Therefore, it is necessary to keep in mind all the safety guides of the mixer when you own one. Besides, following these guides will maximise the lifetime of your mixer.
Manufacturer's instruction – you shall not skip
Even though hand mixers are simple kitchen tools and most if not all, work on the same principle, their features might vary according to the manufacturers.
Therefore, reading the instruction either on the manual guide or the product packaging, is a must. By doing so, you can make the best out of all available features and ensure the durability of your mixer.
Water – better to steer clear of
For the safety of you, your family, and the hand mixer itself, you must keep the plug, the body and the cords of the hand mixer far away from water.
An electric shock, or worse, a massive burst of electricity, might occur if careless. Always beware of water!
Children – keep out of reach
The hand mixer must be out of children's reach, for it can cause injuries. Unfortunate events usually happen when children's hands and fingers come in contact with the hand mixer.
Basic Know-How
Being favored for its simplicity and energy efficiency (at least compared to a regular larger-sized stand mixer), a hand mixer still comes with more functions than one might have thought. Let us emphasise once again – make sure to read the manual instruction to not miss out on any useful feature.
Parts of your mixer
A hand mixer's body contains a speed adjusting control (from off to the highest speed), a power burst button, and lastly, a button that ejects the whisks or beaters. The body is connected to an electric socket via its cord and plug.
Attachments of your mixer
With a hand mixer, baking has become easy as pie! You no longer need to put so much time and effort in mixing all the ingredients by hand, big thanks to the constant power from the hand mixer.
This handy tool might deserve another compliment of yours for providing you with various functions, simply by switching its attachments. Take a look:
Flat beaters: versatile, can be used for any gentle folding, slow or fast mixing
Wire beaters: suitable for whipping cream and eggs that requires aeration
Dough hooks: ideal for kneading dough and denser pastries
How To Use A Mixer For Baking?
The time has come for you to whip out your hand mixer! Are you preparing to whip egg whites for your tiramisu or to knead dough for the next batch of banana bread? Take a look at this step-by-step guide first; we promise some useful tips along the way.
Preparation
To avoid any unwanted incident, first, insert the attachments. Second, make sure that your mixer is off before plugging in your mixer.
Tip: If you have time on your hands, place the bowl and beaters or whisks in your fridge or freezer 30 minutes to an hour in advance. Why? The fat content in cream that traps air bubbles will melt in a warm environment, causing sad, unfluffy whipped cream.
While using
Do not rush. In fact, never rush when you are baking!
Start with one, then slowly increase the speed of your hand mixer to the desired speed. Trust us, by doing so, even after baking, your kitchen counter won't be a mess from splashes of cream and flour.
Tilt your bowl while mixing; this allows the beaters or whiskers to work their best. Guess what, another tip:
Place a damp towel under your bowl, so it doesn't move too much while the hand mixer operates.
Once the job is done, don't forget to slow down the speed to zero before you unplug the mixer. Then, press the eject button to release used beaters or whisks.
Cleaning and storing after use
As we mentioned, the hand mixer should steer clear from water! However, beaters and whisks should be cleaned with soap and water immediately after every use. Otherwise, they might turn rusty from oxidation.
A wet cloth is the solution to clean your hand mixer's body from any splash of cream or wet flour. Then wait for it to dry and carefully place the device back in the original packaging.
Conclusion
With our quick and simple guide on how to use a mixer for baking, we would be flattered to contribute to helping you bake your favourite treats and desserts, such an important part of our life! Life needs some sweetness to lighten its hardness, right?
Don't forget to read the manual guide, clean, and store the mixer properly to keep baking with your beloved hand mixer. It will surely appreciate to be a part of your baking journey, just like us!
Try out the bonus tips we gave and give us feedback on whether you find them useful. We are all ears!