As an Amazon Associate, I earn from qualifying purchases.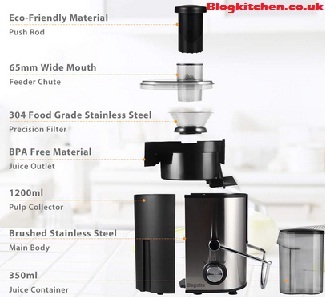 To most homemakers and whoever has a passion for cooking, a juicer is a beautiful contraption, which allows them to squeeze or extract fruit juice out of the leftover produce. These fruit juices, ranging from apple juice, orange juice to strawberry juice, are tasty and can do wonders for your health!
Juicers have become an indispensable tool in any kitchen corner for their compact design and usefulness. Although the working process looks straightforward and can be finished in the nick of time, there is much more to learn about juicers that most of you may not know.
So how does a juicer work? Keep scrolling down our article to find more information about this little but powerful kitchen device!
What Is A Juicer?
As mentioned above, a juicer is a kitchen tool used to squeeze out all kinds of fruits or vegetables. Most of the time, people use juicers to make fruit juice or crush herbs, make noodles, pasta, nut milk, and even baby food.
There is a wide range of juicer kinds catered to different cooking purposes; you can choose the most suitable ones depending on your needs. For example, if you want to make a bottle of orange juice, you need a reamer.
A juicer consists of various components, requiring your full acknowledgement of their operation to avoid wrongly using them and reduce your juicer's longevity.
They include the base housing, power cord, juice container, pulp container, all kinds of plungers, augers, and many other accessories. So before operating your juicer, let's spend some time learning how it works.
How Does A Juicer Work?
So how can your juicer make such a tasty watermelon juice? Here are some necessary steps that you need to know about a juicer's operation:
Firstly, you need to use the centrifuge, which is a long and round tube, mainly made from hard plastic.
To perform any juicing steps, let's operate it first! Depend on the type of your juicer, you can find the power button in different locations, but mostly on the juicer body. Please turn it on, and allow a few seconds to put the juicer into work.
Then after being sliced or cut into smaller pieces to fit the tube, the fruit enters the container through the feed tube and is pushed down by a plunger.
Step 2: The motor and the basket start to work
As you operate your juicer, the motor is powered to spin and continuously turn around in one specific direction, mostly clockwise. This motor is what spins the basket containing the fruits.
The basket is composed of two main parts, namely a high-speed grader and a sturdy sieve. When pieces of fruit are pressed into the basket, the juicer needs a force that makes the fruit turn according to the direction of the basket. This immense strength allows the juice to be extracted from the fruit.
Then this is the part of the sieve: as it contains millions of minuscule holes that only allow the liquid to get through, only the juice is extracted into the container while the pulp remains in the basket.
Now the juicing process has finished, and you have a fantastic bottle of juice fruit!
Conclusion
Juicers are such a crucial part in the kitchen corner that basic information about it is needed to help you get along well with its operation. We bet that after reading this article, you can answer the question: How does a juicer work?
You are sure to be impressed by the way it works. And now, let's make your tasty fruit juice and enjoy the smooth operation of your juicer!