As an Amazon Associate, I earn from qualifying purchases.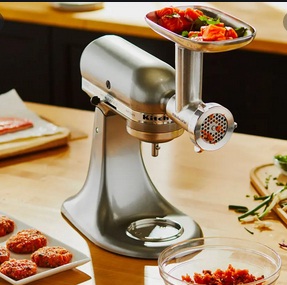 Before wondering "How does meat grinder work?", you might have got some ideas about its most common application, which is mincing meat of any type and into any shapes you want.
In fact, the familiar burger patty, pâté, rolled meatloaf and sausages are living proofs of my last point (well, I mean dead proofs).
But apart from this implementation, a meat grinder is also used for a variety of other purposes: to make cookie dough, pasta; grind bones or vegetables and make fish balls.
A meat grinder, I would say, is a non-cultural recipe which is widely deployed in creating sumptuous pastes thanks to its effortless usage. However, in order to create the best pastes possible, you need to understand the mechanism behind how a meat grinder works.
How Does Meat Grinder Work Exactly?
Wrapping Your Mind Around Parts Of A Meat Grinder
A good meat grinder makes a good batch of meat pastes. So what exactly is good meat paste though? Actually, you can tell by spotting the uniform textures on the product surface and great water retention of the pastes.
The pusher and hopper are where you put your meat before the mincing process.
The screw is where the process mainly operates.
The blade and plate do the sole job of grinding.
The cover makes sure everything is in complete control while working.
How Does Meat Grinder Work?
Now, moving on to our big question: how does a meat grinder work? It's simple.
When you put the meat onto the pusher and hopper, the pusher is going to thrust the meat down the feed tube and keep the process going in the hopper. Usually, there is a tray on which you can put lumps of extra meat before it again gets thrust into the grinder.
Then the frontline screw continues to thrust the meat down the shaft and to the blades.
Next up, the blade and plate do the mincing job. The blade has sharp edges that spin around forcefully, at the same time chopping the meat until it penetrates holes on the plate/die.
And then you have your pastes! Like I've mentioned earlier, your final products are considered okay if they have uniform textures and can withhold sufficient water.
Once having mastered the process, you'll see two obvious perks of grinding your own meat at home.
For one, you have full control of what goes into it. And two, you can actually stretch your budget further by buying cheaper cuts of meat or discounted cuts in bulk. Then you can freeze them for use later.
Frequently Asked Questions
How To Sharpen The Knife And Plate Of A Meat Grinder?
The knife and plate do greatly affect the quality of the grind. But they can get dull and blunt after a while. Therefore, knowing how to sharpen this knife-plate system can be helpful, rather than buying a new set of knife/plate.
Tips When Mincing Meat
Before getting down to work, I suggest that you prepare a kitchen scale to determine the fat percentage in the meatloaf. Whether you're heading for burgers, salami, venison meatballs and whatnot, having the right amount of fat may be important.
The fat creates a particular texture in the mouthfeel and it helps you form patties or balls easily. Normally, the fat proportion will be 10% for burgers and 20% for sausages/meatballs.
One final tip before grinding is that you should cut your meat into one-inch-sized cubes and then put them into the freezer, it'll help them be pushed through the grinding dies much easier.
Summing Up
For now, the question "How does meat grinder work?" is no longer bugging you, is it? Because the more important question will be "How many meatballs do you want tonight?". And if you're ready, let's hit the kitchen.