As an Amazon Associate, I earn from qualifying purchases.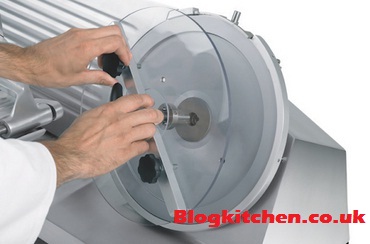 It's super convenient and easy to learn how to safely use a meat slicer. Slicing meat mechanically takes significantly less time compared to the traditional way, and the end results are more consistent as well!
However, lose focus for a minute, and you could lose a finger, so read on to learn how to avoid harming yourself when operating a meat slicer.
How To Safely Use a Meat Slicer?
In general, there are a number of rules and regulations that you must follow at all times to ensure maximum safety and efficiency when using a meat slicer, but for us, there is one Golden Rule that everyone must adhere to: Concentration is everything!
Disaster could happen in a blink of an eye if you don't pay attention, regardless of a manual or mechanical slicer. Every session has three stages: Before using the meat slicer, during usage of the meat slicer, and after using the meat slicer, with each session having their own course of actions to minimise the risk of injury.
Before using the meat slicer
Firstly, you must be thoroughly trained on how to use a meat slicer prior to using it. Make sure that the blade is fully closed, which means the slice thickness dial is at 0 before plugging in.
Furthermore, check to see that the blade is unobstructed by anything. Put on protective gear such as cut-resistant gloves or Kevlar gloves, followed by another layer of Nitrile, Vinyl or Latex glove to ensure food hygiene.
Additionally, put the meat in the carriage and lock it securely in place before plugging the machine in. The carriage must be pulled all the way back as well.
We recommend pulling a few times with the meat slicer unplugged, just to get a feel of the carriage and ensuring smooth operation.
During usage of the meat slicer
Now that you've been well prepared and well protected, it's time to start slicing.
Always remember to start the meat slicer at low speed and manual mode first to confirm that you have good control of the machine. Do not push the meat directly through the slicing blades, instead always push the entire carriage with the meat locked in.
This minimises the risk of contact with the blade, potentially causing injury. Use the first slices to make sure the resulting thickness of the meat is satisfactory.
Once you've gotten used to the rhythm and speed of the meat slicer, you may gradually turn up the slicing speed and switch to automatic mode. Remember, focused and steady is the way to go, as not only this facilitates maximum safety, but the meat slices are also allowed enough time to come out and separate properly.
Avoid at all times meat or poultry that still has bones in them, as the bone's contact with the blade can send splinters flying, potentially damaging you and others around.
After using the meat slicer
After you've finished and got a delicious plate of sliced meat, turn the machine off and refrain from cleaning or touching the blade until it has stopped completely.
Always keep the slicer unplugged when you sanitise it. The components of a meat slicer can be taken apart, allowing for easy cleaning and maintenance.
During cleaning, keep the protective gloves on at all times, as reports have shown that meat slicer accidents are more prone to happen not during the operation phase, but rather during the cleaning process.
Do not at any time directly touch the blade, as it is razor-sharp and can unexpectedly injure you. Furthermore, clean the blade and other machine components with warm or hot water and soap to sterilise them. The edge is just as sharp as ever, so use round outward cleaning motions to wipe the blade.
Conclusion
And that's pretty much about it. It's not super complicated actually, all you have to do is stay focus, remember a few simple rules, and you'll slicing with style and grace in no time.
Now that you've learnt the ins-and-outs of how to safely use a meat slicer, get out there and impress everyone with your delicious charcuterie board.
Have fun, and good luck!