As an Amazon Associate, I earn from qualifying purchases.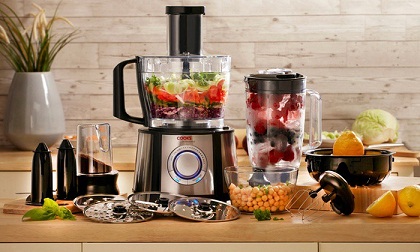 A food processor is an indispensable gadget in modern kitchens; however, do you know what is it capable of doing?
It can be overwhelming once you get to know all the features available; yet, knowing this helps you make the most of the unit you have.
Without further ado, let's jump right into our article with the topic: What to use a food processor for?
What Can A Food Processor Do?
A food processor is one of the most versatile kitchen equipment to have in your household. So, what exactly can it do?
The most common use is to blend sauces, salsa, dips, or even soups. What is more, it can be used to make chopping, shredding, or slicing so much quicker, up to half the time.
A food processor can come in handy if you know how to use it properly. Below are some of the ways for you to make the most of this unit.
Chop a Versatile Range of Food
Prepare the needed ingredients, and let the machine do the rest – no more nicks or cuts.
It's even better when you have a large amount of food to cut into chunks. There are machines with specially-designed blades for certain cutting sizes, which is why you should opt for the ones that come with more than one blade.
Remember that time you were chopping some onions into cubes, and you had to stop halfway? Your eyes couldn't bear the irritating gases from the onions, and they turned watery.
As there is a tip to avoid this problem, which is to start cutting from the head, not the end, chopping onions into cubes is still a time-consuming task that requires you to put out lots of effort and energy.
The same thing will not happen with the help of a food processor. Besides onions, other soft fruits like tomatoes or berries and grapes require you to use the 'pulse' option if you don't want them to turn into a messy pulp.
Mix up Ingredients for The Perfect Dough
Are you tired of your dough being inconsistent because you mess up the mixing stage? Say less!
Most food processors come with a dough blade to knead the dough for pizza, biscuits, scones, or whatever you name it.
The tip is to start with cold butter as it will get warm and begin to melt throughout the kneading process. After that, you can knead the dough by hand for a few more minutes for the best result.
Shred Vegetables for Healthy Salads and More!
There is a grater (or shredding disc) for shredding vegetables like Brussel sprouts or cabbage into delicious coleslaw and salad. All can be done within a push of a button.
Making ratatouille this weekend? With the help of the slicing disc, the work can be lessened up to half! You'll get more even and good-looking results while saving a lot of time on the cutting board.
Make Soups and Purees
Name something better than spending the weekend watching Netflix with a bowl of Nachos and dips?
You're able to make the best dips with a smooth, creamy consistency, all thanks to the help of a food processor. I don't know about you, but I'm a big fan of hummus, and the struggle of blending chicken peas into a fine puree is real!
Even though canned beans are often soft, they're also dense, making it harder to blend them into submission.
You can blend them using a regular blender, but with a food processor that provides you with a sharp, fine chopping blade and a little heat (which can be adjusted in most units), the task can be done at ease.
Who doesn't love a good batch of pesto sauce? It goes with literally everything, from pasta to pizza and even lamb fillets. Grate the cheese with a grater and simply change to the chopping or blending blade to combine all ingredients. Voilà!
You can also make homemade mayonnaise and peanut butter with a food processor; there are various recipes found on the Internet that offer you with quick and easy-to-follow steps for the best outcomes.
Tips to Make the Most of Your Food Processor
Here are some tips you can try to make the most of your food processor.
Always set up the machine first, then fill in ingredients later. A lot of people find it hard to place the ingredient-full bowl securely on the base.
You'll either end up with some cuts trying to adjusting the blades or having to remove the food and start over.
Don't hold the pulse too long, nor push it long enough. This will mess up your desired texture.
Replace the blades after some time. They will get dull eventually and make some processes longer than they should. Avoid this by purchasing new blades, and you'll be glad you did that.
Bottom Line
That pretty much sums up all the features you can try with a food processor. I hope my article did give you an answer to the question: What to use a food processor for?
Good luck with all the cooking tasks you have in the future and don't forget to share your experience with us when applying the mentioned methods.
Thank you for reading.