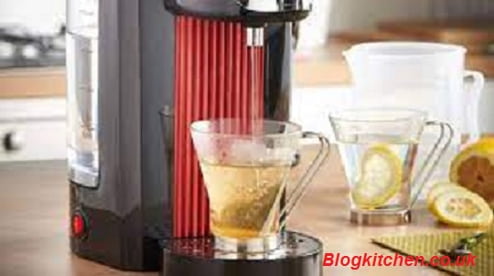 You may have used a hot water dispenser once in your life. Or, you may even have one in your office or at home if you're lucky! For many people, they are an important part of their daily routine and can be found everywhere from offices to homes.
Yet, how does a hot water dispenser work? This blog post will explore what goes on behind the scenes when using a hot water dispenser and help answer some common questions about them. Let's start by talking about how these devices actually produce boiling water.
How Does a Hot Water Dispenser Work?
Many people may not be aware, but hot water dispensers work by feeding the mains-fed system. This means that instead of pulling from a storage tank like most home appliances do (which would lead to stagnant water and mineral build-up after time passes), the hot water dispenser pumps the water straight from the plumbing system. It will ensure you have fresh, clean drinking water every day.
When you switch on the machine, the water will be drawn from the main system at your hot water dispenser machine. Once the water arrives into the machine, it will be delivered to a network of pipelines.
The water will go through modern carbon filters first to get purified. In particular, carbon filters are extremely efficient at purifying water as they will provide a fresh, clean flavour with no odour. They will help remove impurities like volatile organic compounds, sediment, and chlorine, as well as any disagreeable tastes and odours.
After passing through the two-stage carbon filter system, the water will continue its journey to go to the heating element. The heating element is similar to the heating filament in a kettle, but because the hot water dispenser draws the water through the heating element quicker, your water will heat up quickly.
The filament guarantees that your water is heated to a temperature of at least 90 degrees Celsius, which will result in a wonderfully hot cup of water for any of your beverages. It is totally safe to drink and use since the temperature of the water is above 90 degrees centigrade, which can kill any waterborne bacteria.
The absolutely clean, safe, and fresh-tasting water, then, is siphoned through a pipe to the exit, ready to use, thanks to the active carbon filters and the hot water filament.
The hot water dispenser is appropriate for companies of all sizes, whether they are small local enterprises or large corporations in cities.
How Do You Install a Hot Water Dispenser?
If you believe a hot water dispenser is a great addition to your business, workplace, or home, you'll be happy to know that it's incredibly easy to set up!
As mentioned in the function above, you will have to connect your hot water dispenser to the cold tap water that feeds your normal faucet.  Then, instal an adapter to help run water straight to the faucet. If you want to add any filter to the system, this is the time. Be mindful that the filter has to be put between the cold water supply and the faucet.
Also, please note this down while installing: Your hot water dispenser unit should be no more than one meter away from the piping to a rising main, much like the power. You'll also want sufficient room for the boiler.
FAQs
Do Hot Water Dispensers Use a Lot of Electricity?
The water dispenser typically needs roughly 2.8 kWh of energy per day to provide hot water. A water dispenser's typical annual power usage is roughly 912 kWh, which works out to about $118.00 per year.
Is It Safe to Use a Hot Water Dispenser?
Dispensers of hot water are extremely safe and simple to operate. As a result, they may be used in any setting where persons may have mobility issues. Picking up, refilling, and pouring from a kettle might be challenging.
Not to add the danger posed by the boiling water. The dispenser only requires a simple tap to distribute hot water and allows anybody to fill their mug with boiling water fast and safely.
Is a Hot Water Dispenser Cheaper to Run than a Kettle?
As you may have heard, the kettles use a lot of electricity. Yes, that is true; they are frequently used in short bursts. A hot water dispenser, on the other hand, will utilize a minimal amount of energy over a lengthy period of time, making it far more efficient. As the system's tank never gets cold, less energy is required to heat water between uses.
Conclusion 
We hope this article has provided you with some insight into how a hot water dispenser works. If you're interested in installing one, you can have a look at our tips for installing a hot water dispenser above for your reference.
Besides, you can also check out our FAQs section for more information related to the machine that you may want to have in your house as well. If you have any other questions, leave your comment below so we can help with the answer you need.
Thank you for reading!