As an Amazon Associate, I earn from qualifying purchases.
A Summer would not be perfect without the lavish barbecue parties – where you can enjoy grilled steak with your family, friends, and relatives. However, have you ever tried to cook with gas-fueled grills before? If not, this blog is for you!
Scroll down and we will guide you on how to use a gas BBQ correctly!
What Is A Gas BBQ?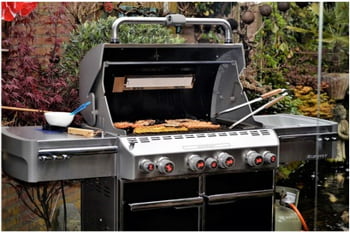 Gas-fueled grills are devices that cook food by applying heat from below. They commonly use propane or natural gas as their fuel source, with the flame either cooking meals directly, or heating grilling parts that emit the heat required to cook food.
There are many advantages when using this outdoor cooker, including cleanliness and convenience. We can clean the grills after cooking with ease. Because it's comfortable to adjust the heat, we can cook freely on it.
How To Use A Gas BBQ? 
If you want to start an outdoor party, the necessary items are gas-fueled grills, a lipped pan, steel scissors, steel tongs, steel spatula, wire brush.
Using the above items is a good idea because they are made from stainless steel. In addition, we must have good slices of steak.
Don't forget to connect your machine with a gas source (Propane or Natural one). After finishing the preparation, here is the guide to use it:
Step 1: Start the grills
Check the propane tank to confirm if it has adequately fueled so that you don't have to worry about running out of propane.
After that, open the machine's lid and rotate the propane tank's valve counter-clockwise until it's fully open. Turn a burner up and push the ignition button.
Turn on the other burners after turning up the first one. Lock the lid and preheat for 10 to 15 minutes.
Step 2: Prepare the Grills
Make sure the grill's grates are clean.
Use a wire brush to clean the equipment when preheating the grates.
Rub a little oil on the grates to prevent the steak from sticking on.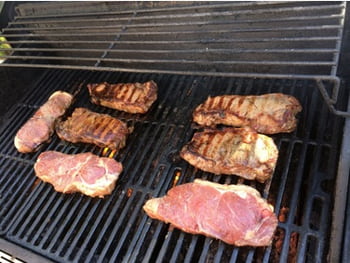 Step 3: Cook on the Grills
Adjust the heat by turning the buttons.
Spread all your meat on the grills simultaneously, then leave at least an inch of space among the pieces of meat.
Cook the meat for several minutes at medium heat. When the meat is cooked, its underneath has a nice brown.
Use your tongs or spatula to test the meat. Flip all of the meat to cook them thoroughly.
Step 4: Turn off
Turn off all the burners, double-check the button positions to ensure there's no more gas wafting.
Please wait for the outdoor cooker to cool down completely, close the lid and protect it with a cover.
Clean the grates quickly.
Cover the grills with a waterproof canvas.
FAQs 
What Nutritional Quality Can Food Grilled On The Gas-fueled Grills  Bring?
Based on food surveys, people who consume overcooked barbecue meats are more likely to get cancers.
However, it is still evident that grilled food also provides a wide range of beneficial nutrients for our health, including protein, fat, vitamins, and minerals.
Are Gas-fueled Grills Friendly With The Environment?
Barbecuing makes meals additionally tasty. Unfortunately, it's not the most eco-friendly way to cook. Although you can choose the one that reduces smoke, it is still not environmentally friendly.
This is because gas-fueled grills consume fossil fuel, which can lead to air pollution.
Fortunately, we can find ways to reduce the amount of smoke! We don't have to give up the parties.
Which Food Should We Choose For A Gas BBQ?
There are many perfect options when it comes to BBQ dishes, ranging from meat to vegetables. However, different kinds of meat, such as beef steak, chicken, goat or lamb, are what we often see on a barbecue. We can choose sausage or bacon as well.
Besides, we can also grill vegetables and fruits with meat. Okra is always chosen to go with the meat.
Conclusion
A BBQ party is certainly an attractive activity to everyone, and we always enjoy it to the fullest. It is hard to imagine a perfect summer without great BBQ parties. This article has clearly explained how to use a gas BBQ to you.
Via this article, we hope you can use the gas BBQ more confidently. Therefore, the BBQ parties will be more enjoyable.