As an Amazon Associate, I earn from qualifying purchases.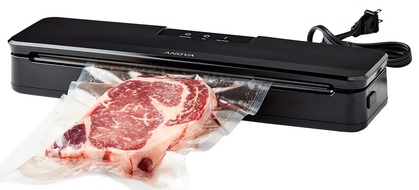 Keeping your raw meat fresh would not be that much of a struggle if you have a vacuum sealer at your service. But what if you cannot get one? Worry not! You can take advantage of what you have at home to retain the quality of your raw ingredients. So, how to vacuum seal meat without a vacuum sealer? Let's find out!
Why Need To Seal Meat Air-Free Without A Machine Anyways?
Knowing how to vacuum seal meat without a vacuum sealer, we believe, would turn your cooking experience into an endearing little job where your salary is people's satisfaction. How come? – You might be wondering. Let us tell you why.
First off, some of you might find the notion of sealing food air-free unfamiliar. That's okay because we're about to tell you.
Sealing food air-free is the act of putting food inside a plastic zipper bag and then we begin sucking all the air inside that environment until there will be barely any air left. That environment would then be airtight, or anaerobic.
It's the science behind this process. An oxygen-free environment has low moisture, thus can prevent the development of certain bacteria, microorganisms, and fungi. This would slow down the oxidation process of your meatloaf.
Meat preserved in this condition would enable you to use after months and even years to come. Yes, with only one vacuum suction process.
Moreover, keeping meat in bags would make sure its surface is clean of any dust or flaws over time. Not to mention it's neater than having them stacked up without any organization.
And if you're a chef who requires the authentic quality and flavor of meat, then don't miss out on these DIY techniques.
How To Vacuum Seal Meat Without A Vacuum Sealer?
Almost everyone doesn't own a vacuum sealer, unless you're either an extremely meticulous cook or a sealer manufacturer. That's why knowing how to vacuum seal meat without a vacuum sealer will come in handy.
What you'll need is a zipper bag and a tub/pot well filled with water.
Step 1: Put your meat in a zipper bag. Then seal it almost completely.
It can be beef chuck, tenderloin pork and whatnot. Put them nicely inside a zipper bag that gives enough room for air to penetrate. Then seal it all the way until only one or two inches open.
Step 2: Gently lower the meat bag down into the tub. Then seal the corner.
When you lower the food, the water pressure is going to extract all the air out of that bag. You'll see the two sides of the bag shriveled against each other underwater.
Keep doing so until just the little corner of the bag that you left open is about to be submerged. Then you seal it off and take it out of the tub.
There you have it, a meat bag that is airtight without resorting to a vacuum sealer.
Wrapping Up
We believe with this article, you have got the gist of how to vacuum seal meat without a vacuum sealer, haven't you? From now on, you can keep your meat good as new all the time. Trust us, the well-preserved quality of the meat would add a memorable taste to your dishes. Now, go and try out this handy method!